Parenting is the best thing that could have happened to me. As a young child, I would sit and dream of the family I would have one day. In those dreams, the amount of love that I have for my children was left out. I never knew I would have this undying love for my two beautiful girls. The love between my girls and I just brings a huge smile across my face. How do I know I have this special love? You can just look into my girls' eyes when they look at me and the same when I look at them. BUT, there is another way to tell… love notes for children. I never know when I will get up and find a love note hid in different places throughout the house.
For instance, last week I came back home from dropping the girls off to school and found a note in the bathroom from L. Sweet little note saying how much she would miss me that day but she would see me very soon signed with love. The note is not just no ordinary note, this note will always be treasured and lives on my desk so I can look at it daily. Fast forward to tonight, I found another note. M had fell asleep fast but L was having problems falling asleep. I went to lay down with precious L and as soon as I lifted my arm under my pillow to get comfortable, I felt a little piece of paper. Sweet M had somehow managed to sneak a note to me. It talks about how much she will miss me while she is at school but she can't wait till she gets home to give me the biggest hug ever, signed with love from sweet M.
As soon as I read that note, I immediately thanked God for blessing me with the two best daughters in the world. How did I get so lucky, I asked? It is not luck, God delivered these two sweet girls to me because he knew I dreamed for this family for so long.
I began thinking, love notes can keep your children talking to you all throughout their childhood. There will be times when your children may not want to talk face to face at first and needs something to break the ice. Love notes will be the right key. I leave my girls post-it notes all throughout the house and in their lunch boxes. They love finding them and seeing the smile on their face is priceless. You can be as creative as you want with the love notes or you can print free templates off the internet such as these Free Printable Lunch Box Notes from Get Buttoned Up.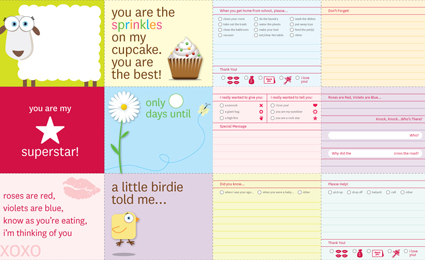 Surprise your child today with a love note and you may very well just start a tradition in your house and find love notes popping up all over the place. You will love the notes and your kids will love them. Priceless feeling!