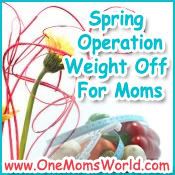 Here we are at the end of Week 2 and Beginning our Week 3. How did everyone do? Did you stick to your plan?
I weighed in this morning…..
Starting Weight 200lbs
Today's Weight: 191.5lbs
Weight Loss so far 8.5 lbs
I only lost 3 pounds this week when I was hoping for another 4.5 to 5. I did not get to do my biggest loser DVD because my laptop has crapped out on me, but I am going to see if I can put it here on my main computer and do the exercises here in my office.
Everytime I even think of something sweet, I think Jen this will not look good on the Operation Spring Weight Off. So I love this is helping to hold me accountable. I am super stoked to see where I am at on my birthday in a month.
Ok… Link up everyone and let us know how you did.