Congratulations to comment #68 for winning via Random.org!
Pillow Pets are all the rave here in this household. Since, we take multiple road trips through out the year, the pillow pets have been our lifesaver. I am beginning to believe they love road trips just as much as we do. My girls will not sleep without their pillow pets and once they wake in the mornings, their pillow pets always come with them into the living room.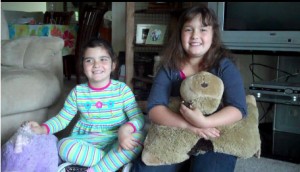 The flexibility is just what the doctor ordered for parents. Pillow pets give comfort to the kids and also serve as a playmate. I could talk about pillow pets all day and I do a lot of recommends to other people, but I thought it would be great to hear from the true owners yourself. Listen in as our very own kid reporters give you the real review of the pillow pets. Then, I will tell you how you can save 40% off of pillow pets.
Now, you cannot ask for a more real review than going to the source itself right? Pillow Pets come in so many different animals but specifically these 8 animals, you are able to save 40% right now until April 10, 2011.
– Ms. Lady Bug: http://mypillowpets.com/shop/ms-ladybug/
– Magical Unicorn: http://mypillowpets.com/shop/magical-unicorn/
– Comfy Panda: http://mypillowpets.com/shop/comfy-panda/
– Playful Penguin: http://mypillowpets.com/shop/playful-penguin/
– Buzzing Bumble Bee: http://mypillowpets.com/shop/buzzy-bumble-bee/
– Squeaky Dolphin: http://mypillowpets.com/shop/squeaky-dolphin/
– Silly Monkey: http://mypillowpets.com/shop/silly-monkey/
– Snuggly Puppy: http://mypillowpets.com/shop/snuggly-puppy/
Right now all of these 8 products are on sale 20% off – at $19.99. But since you are a loyal reader of One Moms World, I am able to give you a promo code for 20% off the sale price (40% off the original price of $24.99) so your price at check-out on any of these specific items would be $14.99. The promo code is BLOGGER. This is valid from today through 4/10/11.
WIN IT:
Choose 1 of the 8 pillow pet selections above and leave a comment below on who you would gift the pillow pet to!
Extra Entries:
Join One Moms World on Facebook
Join Pillow Pets on Facebook
Tweet About This Contest
Subscribe to our Feed
Make sure to leave an additional comment for each extra entry.
Contest ends April 10, 2011 at 11:59pm ET.
Disclosure: Pillow Pets provided us with the pillow pets for review. All opinions and comments are of our own.