Did you hear the news? My Pillow Pets® is Named One of the "Fabulous Fifteen" on Toys "R" Us "Hot Holiday Toy" List. I have to say that here at One Moms World, we jumped with glee. We are huge Pillow Pet lovers here and only the real My Pillow Pets® passes the test in our household.
As you go through the Holiday season, you will see "fakes" but once you have laid your head on the real My Pillow Pet®, then you will be able to tell it from all the "fakes". The girls have 4 pillow pets. We purchased the girls matching Panda Pillow pets and then we were sent a Comfy Bunny and a Magical Unicorn. Each night when they go to bed, they have to have all their Pillow Pets with them. You can see in a picture below the girls are enjoying their pillows for movie night!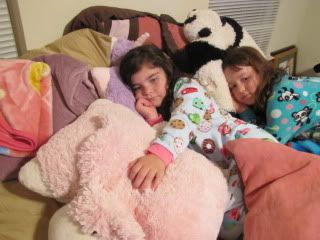 The Pillow Pets travel with us on the road, so they are never left alone. I know what you are probably saying, it is just a stuffed animal. Made of ultra-soft chenille, My Pillow Pets® plush folding stuffed animals are much more than a stuffed animal. With a strap that closes underneath to transform the pillow into a friendly pet, they are an ideal travel pal, nap time buddy and all-around cuddly friend.
I have to say as well, that it is not just a fad as a lot of toys we know. The girls received their first pillow pets over a year ago, and they are still so attached to them. We are actually giving some for Christmas this year.
You can order your authentic, machine washable My Pillow Pets® or Pillow Pets™ now for the holidays. Pillow Pets™ are affordable with a "Special TV Offer" of just $19.95 at www.GetPillowPets.com with any additional Pillow Pet™ priced at $15.95 (up to five), and are also available at Toys "R" Us stores nationwide. I have also seen them at Walgreens and Target as well. Just make sure they have the Pillow Pets trademark on them to ensure you are getting the genuine comfy pets 🙂
How about a early Christmas present? We are giving away one Pillow Pet of choice to one lucky reader. To enter:
1. Visit GetPillowPets.com and comment below on which is your favorite Pillow Pet.
For Extra Entries:
Join Pillow Pets on Facebook
Tweet About This Contest
Follow One Moms World on Twitter
Make sure to leave an additional comment for each extra entry. Contest will end October 28 at 11:59pm ET.
Congrats to comment 214 – Pamela S. You are the winner!
Disclosure: We were sent a Pillow Pet for this review. All opinions and comments are of my own.