As many know… I have lost a big amount of weight over the last year. I did it so I could feel better about myself and have made some huge lifestyle changes to keep the weight off. To look back on myself before the weight loss, I just want to cry that I let myself get that big. I want to make sure to instill good eating habits in my children while they are young, so they can carry on the lifestyle changes when they are adults.
One food that our whole family loves and it helps in maintaining the weight loss is Progresso Soup. With Progresso Light and 100 Calorie Soups, you can enjoy a delicious cup of soup that provides great taste and variety all at 100 calories or less. Also they are 0 and 1 points for Weight Watchers :-). With surprisingly hearty ingredients like pasta, beans, corn and rice, and flavor-packed vegetables like tomatoes, carrots, and peppers, Progresso Light and 100 Calorie Soups offer varieties with a good source of fiber and a full serving of vegetables. Satisfying your taste buds, Progresso Light and 100 Calories Soups can help curb your hunger, making it easier for you to stick to your weight management plan.
Even my girls are asking for Progresso soup, so you know it has to be pretty darn tasty for kids to like it as well! I don't really have a favorite in the Progresso soup as I like to have a variety, so when I purchase at the store… it is always a mixed combination. I was not able to try all the flavors until my friends at Progresso Soup and MyBlogSpark sent me 15 different kinds of Progresso soup. You know that made getting through this snowy winter so less stressful :).
Progresso Soup is going beyond just cooking up a healthy bowl of soup. They want to help you by offering a contest. You have to hurry… it ends tonight! Go to www.Progresso.com/SouperYou to enter the Progresso "Souper You Debut" contest for the chance to win a full makeover in New York City.
Three grand prize winners will be awarded a trip for two to New York City from May 21st-23rd. The prize includes roundtrip airfare, a two-night stay in a NYC hotel, a full makeover, a $1,000 wardrobe shopping spree and personal consultation at a New York department store.
To enter, you´ll need to do the following:
* Go to www.Progresso.com/SouperYou to learn more and enter the contest
* Submit your essay (200 characters or less) telling Progresso why you love Progresso Light or 100 Calorie Soups and why you would like a makeover
* In addition, please submit a photo of yourself that visually reinforces the theme of your essay
Once you enter, you´ll have the chance for your photo and/or an excerpt from your essay to appear on www.Progresso.com/SouperYou, so be sure to check back frequently! Once the 10 finalists are announced, you can visit www.Progresso.com/SouperYou from March 29 through April 12 to vote for your favorite.
In addition, throughout the duration of the contest you can visit www.Progresso.com/SouperYou to download a coupon for $1 off any three varieties of Progresso Soup!
Also with the help of Progresso Soup, I want to help you as well. One of my readers can win their very own Progresso Soup gift pack. It contains the mug, jump rope and two cans of Progresso Soup.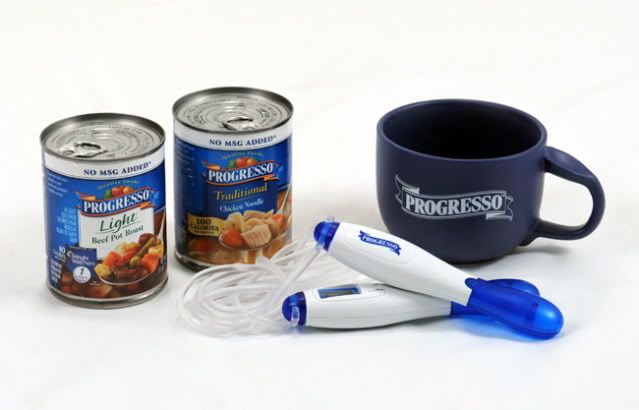 All you have to do is leave me a comment below telling me what your favorite soup is and I will pick one Random winner on Wednesday, March 17, 2010.
Big Thank You to Progress Soup and MyBlogSpark for letting me participate in this giveaway!