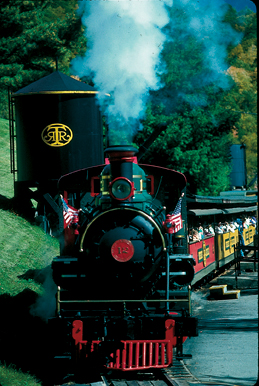 It's full steam ahead for the 2015 season at North Carolina¹s first theme park, and that means it¹s time to purchase your Tweetsie Railroad Golden Rail Season Passes. For a limited time, adults can enjoy Wild West action, rides, live shows, free parking on July 4th and more all season long for $85, and children ages 3 through 12 for $60. After April 19, rates increase to $95 for adults and $70 for children. Children 2 and under are always admitted for free. The gates open for Tweetsie¹s 59th season on April 10 and close November 1, giving visitors plenty of time to experience everything Tweetsie has to offer at an affordable price.
Tweetsie Railroad¹s 2015 season includes the return of several popular special events including the July 4th Fireworks Extravaganza, Day Out With Thomas, K-9s in Flight Frisbee® Dogs, Tweetsie's Ghost Train® Halloween Festival and much more. In addition, the park is excited to add a brand new event to the lineup ­ Nick Jr.'s mathematician superheroes, Team Umizoomi!
Tweetsie guests can also look forward to all of the other exciting activities offered at the park, including a thrilling Wild West adventure on a train pulled by Tweetsie¹s historic steam-powered locomotives. Spend the day exploring the streets of Tweetsie's very own Western town, take a spin on thrilling amusement rides, or catch a scenic chair lift ride to Miner¹s Mountain and pan for gold or visit with the animals at Deer Park zoo. Also, don¹t forget to check out Tweetsie¹s Palace Saloon for live entertainment, music and shows.
To order your tickets conveniently from home, visit Tweetsie.com. Guests looking to renew last year¹s season pass without waiting in line for a new card can easily do so by visiting Tweetsie¹s website or calling 1-877-TWEETSIE.
A 2015 Golden Rail Season Pass includes:
– A full season of adventure from Wild West train rides and live entertainment, to amusement rides and the Deer Park Zoo
– Free admission to all special events including Day Out With Thomas, Tweetsie¹s Ghost Train® Halloween Festival, Team Umizoomi, Cool Summer Nights evenings (June 20 and 27 and July 11, 18 and 25), Railroad Heritage weekendŠand more!
-Free parking for the July 4th Fireworks Extravaganza, the High Country¹s most popular Independence Day celebration
Season Pass holders also receive discounts at other North Carolina family attractions including:
– Biltmore Estate
– Chimney Rock at Chimney Rock State Park
– Grandfather Mountain
– Mast General Store
– Great Smoky Mountains Railroad
– Tanger Shoppes on the Parkway
Tweetsie Railroad will be open Fridays, Saturdays and Sundays starting April 10, including Memorial Day Monday, and seven days a week from May 29 through August 16. The park returns to the weekend schedule from August 17 through November 1, including Labor Day Monday. The 2015 season ends Sunday, November 1. The park's regular hours are 9:00 a.m. to 6:00 p.m., but will be open until 9:00 p.m. on July 4 for the Fireworks Extravaganza and June 20 and 27 and July 11, 18 and 25 for Cool Summer Nights. Daily admission to Tweetsie Railroad is $41 for adults and $27 for children ages 3 through 12. Children 2 and under are admitted free. The Ghost Train® Halloween Festival will take place Friday and Saturday nights September 25 through October 31 from 7:30 p.m. to 11:30 p.m., with an admission price of $34 for adults and children. Tickets and Golden Rail Season Passes are available at Tweetsie.com.
Tweetsie Railroad is located on U.S. Highway 321 between Boone and Blowing Rock, North Carolina. For more information about the 2015 season at Tweetsie Railroad, visit Tweetsie.com or call 877.TWEETSIE (877.893.3874). Find Tweetsie on Facebook at www.facebook.com/Tweetsie and Twitter and Instagram, @TweetsieRR.