It's almost time to listen for the train whistle through the woods. It's neat to have Tweetsie Railroad close by and we enjoy telling others about this beloved theme park.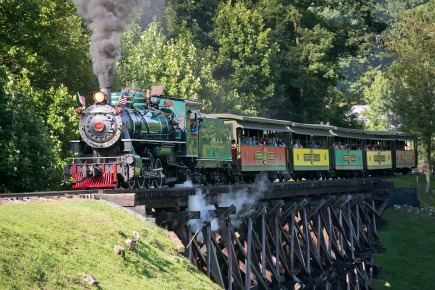 A Golden Rail Season Pass is the best and most economical way to enjoy a season full of Wild West fun and adventure at Tweetsie Railroad. Between now and April 10, adults can purchase a 2016 Season Pass to North Carolina's first theme park for the discounted price of $95, and children ages 3 through 12 for $65. After April 10, rates increase to $105 for adults and $75 for children. Children 2 and under are always admitted for free. Guests can purchase Season Passes or renew last year's Season Passes online at Tweetsie.com.
Tweetsie Railroad will open for its 2016 season on April 8 and will remain open through October 30. Returning guests can expect a season filled with everything they have come to know and love about Tweetsie Railroad, and new guests can look forward to discovering why generations of families eagerly return to Tweetsie Railroad year after year.
The centerpiece of Tweetsie Railroad is its trains: guests are treated to a Wild West adventure while on board a train pulled by one of Tweetsie Railroad's two historic steam locomotives. Visitors can also explore an authentic Western town, enjoy amusement rides, take in live shows and entertainment, pan for gold, and visit the animals at the Deer Park Zoo.
Tweetsie Railroad has a busy lineup of special events planned for the 2016 season. Popular annual events like:
Day Out With Thomas™
July Fourth Fireworks Extravaganza
K-9s in Flight Frisbee® Dogs
Tweetsie Railroad's Ghost Train® Halloween Festival
Dora the Explorer and her cousin Diego – stars of Nickelodeon's hit animated preschool series
Golden Rail Season Pass holders receive a full season of adventure at Tweetsie Railroad, along with other great benefits:
General park admission to Tweetsie Railroad throughout the 2016 season, including admission to all special events
Free parking for Tweetsie Railroad's July Fourth Fireworks Extravaganza, the High Country's most popular Independence Day celebration
One ride with Thomas the Tank Engine™ at no additional charge
One admission to Tweetsie Railroad's Ghost Train® Halloween Festival on the night of your choice
To order or renew a Golden Rail Season Pass, visit Tweetsie.com or call 1-877-TWEETSIE.
Tweetsie Railroad will be open Fridays, Saturdays and Sundays starting April 8, and seven days a week fromMay 27 through August 21. The park returns to the weekend schedule from August 22 through October 30, including Labor Day Monday. The 2016 season ends Sunday, October 30. The park's regular hours are 9:00 a.m. to 6:00 p.m., but will be open until 9:00 p.m. on July 4th for the Fireworks Extravaganza and July 9, 16, 23 and 30 for Cool Summer Nights. Daily admission to Tweetsie Railroad is $44 for adults and $28 for children ages 3 through 12. Children 2 and under are admitted free. The Ghost Train® Halloween Festival will take placeFriday and Saturday nights September 23 through October 29 from 7:30 p.m. to 11:30 p.m., with an admission price of $36 for adults and children. Tickets and Golden Rail Season Passes are available at Tweetsie.com.
Tweetsie Railroad is located on U.S. Highway 321 between Boone and Blowing Rock, North Carolina. For more information about the 2016 season at Tweetsie Railroad, visit Tweetsie.com or call 877.TWEETSIE(877.893.3874). Find Tweetsie Railroad on Facebook at www.facebook.com/Tweetsie