Scotty McCreery is our hometown boy here in the Triangle of NC, but that is not the reason that he has my votes. He has each week thanked God for getting him through every single day in Hollywood but this past week he showed his faith even further.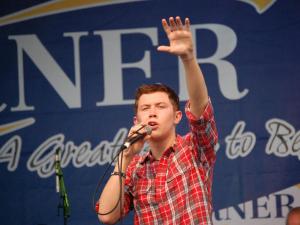 Yesterday, was his big homecoming to Garner, NC. We happen to like Garner as that is where M performs her clogging each week. The only thing that was hampering his big homecoming to Garner though was rain storms. Scotty opened up his bible Thursday night and was flipping through the page and landed on Amos 4:7
"I also withheld rain from you when the harvest was still three months away. I sent rain on one town, but withheld it from another. One field had rain; another had none and dried up."
Do you know that the rain went all around Garner, NC and did not once sprinkle through the homecoming parade and the homecoming concert? God is Amazing. We were on the opposite side of Garner, NC in another town for M's softball game. At one point, everyone actually had to seek shelter because of the storms. Finally after the thunder and lightning stopped, we were back in action. Unfortunately, the rain decided to pour heavily. M and hubby got soaked on the field, while L and I were hiding under an umbrella. So needless to say, God was watching out for Scotty and everyone else as there were approximately 30,000 people on hand at the concert.
I believe with all my heart that God is blessing Scotty and giving him the power to be such a positive influence in the music industry that we so deseparately need. For everyone that watched the show last Wednesday night, you seen how Scotty once again stood up for his faith and Christ Lord Jesus. Lady GaGa was the mentor for the week and had some very weird advice for Scotty. Such as treat the microphone as his girlfriend, act like your are sticking your tongue down the microphone and etc. Upsetting is a huge understatement as luckily M was in the bedroom at the time this was going on, as we try to limit what the girls see on tv. Fox crossed the lines of letting this go on a family tv show. Scotty could have given into peer pressure but yet, he stands up and kisses his cross around his neck thanking the Lord for being with him to get him through these tough moments in Hollywood.
The music industry is getting out of hand and it is very unfortunate, as music can be so inspirational and powerful without all the bad language. Thank you Scotty for standing up for what you believe in and having God with you every moment in your life. He ended his homecoming by saying that he loved all his fans and so thankful for them and God. AMEN!
Let's go Scotty… our new American Idol literally!