We are very eager to get back to Orlando to use our annual passes. We have had our annual passes for three years but have only been able to use it once in the past two years. I am going to find a way to get us down there for the summer especially with this news that was released.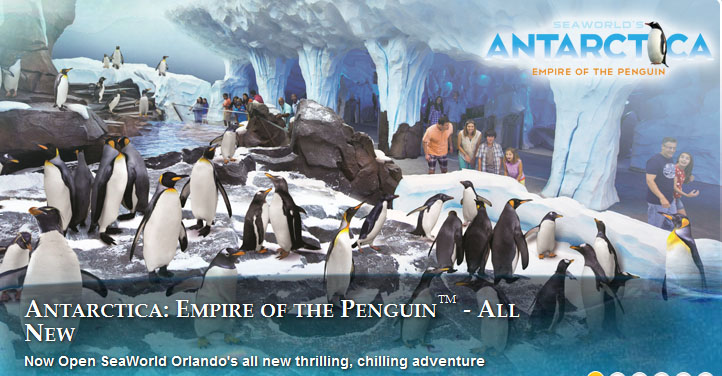 SeaWorld Orlando's all-new attraction, Antarctica: Empire of the Penguin, is now open.
Only SeaWorld Orlando can fully immerse guests into the thrilling, chilling continent few will ever experience. Antarctica is a realm in SeaWorld where icebergs, snowcaps and howling winds greet guests. They'll also meet a very special penguin named Puck, and it's through his eyes that guests learn about penguin life and the dangers and beauty of this frozen land.
On board a first-of-its-kind trackless, all-family adventure ride, guests become one with the storyline as they follow Puck's adventures. Each mobile simulator ride car allows guests to choose one of two levels of exploration – Wild Expedition or Mild Expedition – for various degrees of ride intensity. Designers say each version has multiple variations for a feeling of unpredictability, just like the continent of Antarctica.
L is such a huge animal lover hence the reason we have annual passes to SeaWorld Orlando. She is going to be ecstatic to see this new attraction.
Also new at Antarctica are souvenir cups created by SeaWorld and Coca-Cola®. The Cup That CaresTM is a novel reusable cup program with a twist of technology: An RFID (radio frequency identification) chip embedded in each cup interacts with software at Antarctica's Coca-Cola Freestyle dispensers to calculate CO2 and tell guests how they are being more environmentally responsible by choosing to refill and reuse. And there's more: SeaWorld will donate $1 from each Cup That Cares purchase to the SeaWorld and Busch Gardens® Conservation Fund, a not-for-profit foundation that helps protect wildlife around the world.
Award-winning country artist Lauren Alaina recorded two songs for Antarctica: Empire of the Penguin: The song for the ride that every guest will hear when they experience the Antarctica and a special remix version called "Antarctica: One World, One Family." Her voice is absolutely amazing and truly helps us tell the story of Antarctica: Empire of the Penguin through song. What's even "cooler" is that guests can take the music of Antarctica with them and download the remix version for FREE at SeaWorldOrlando.com.