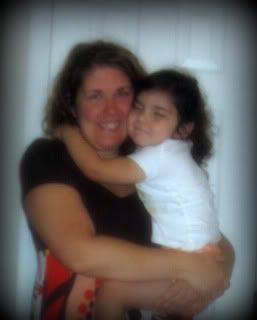 As we were coming home from back to school shopping, we were behind a very sloooow car. Not sure why the car was going so slow, but out of nowhere L yells "This car is going darn freaking slow."
I look at hubbs, hubbs looks at me and we both are trying to contain our laughter. I said you know where she got that from… hubbs ;). Their little ears are definitely picking up everything we say, but for her to put all those words together was tooo funny!
She is definitely growing way too fast. We still love how she says some words like, Do you want to watch D E D instead of DVD. Big sis lets go watch High School Usical. Too cute. I know she will grow out of this, but I just love how she pronounces words. Another she will announce when she gets out of bath at night "I maked mommy" instead of naked.. its maked.
Both of my girls are always saying things that just make me smile the biggest smile ever! Last week we had rented Cinderella movie from Red Box and the girls and I snuggled on the bed that evening… M said "Mommy, you are the best mommy ever". It's so good to be reassured every once in a while. Sometimes I feel like I work so much that they are going to hold that against me, but I really do try to make special events for just mommy and her girls.
They are my world indeed!!!