We are back from one amazing trip to the midwest. Over the next few days, I will be writing about our journey to Branson, MO. Whoever said that Branson, MO was only for senior folks has definitely planted a myth. As a family of four, we had a blast.
Shepherd of the Hills was one of our stops in which it reminded me of a place in the Blue Ridge Mountains of NC. The Shepherd of the Hills is an old homestead in which they have an outdoor drama that has been in existence since 1960. We were not able to see the show, but we sure were able to do other fun activities that can be found in and around the homestead.
First up, L being the huge animal lover she is, jumped right onto a pony. The smile did not leave her face the entire time.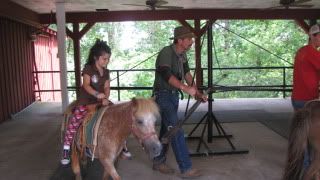 The ponies are available for kids under age 7, since they are not able to ride the big horses. The big horses were tapping their feet (literally) waiting for M and I to take on a great adventure through the woods.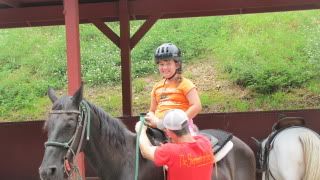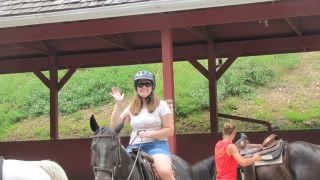 Once we were all saddled up, we headed into the hills. M took to the trails like she had been riding horses for years. Our guide asked how many times she had rode before and when he found out only once before, he was amazed. He said you are doing so good leading that horse, I will hire you if you come back when you get older. Of course, this made M's day.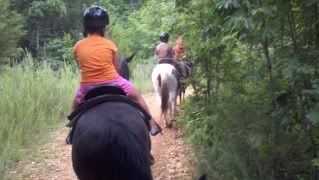 After the 45 minutes of going uphill and downhill through the trails, it was time to take the thrilling, get your blood pumping Ziprider. M and I had already two days earlier went on our first ziplining tour and did a free fall of 102 feet (more to come on that this week), so we were confident that the ziprider would be a piece of cake.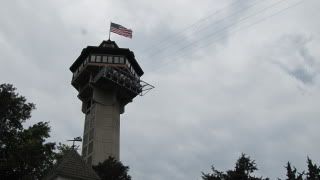 Harnesses were placed and all of a sudden, my nerves start. Am I crazy to be going 170 feet in the air? No way, let's do it.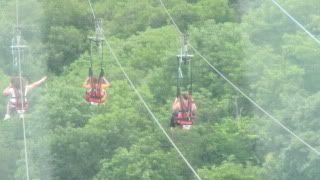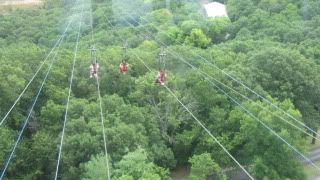 It literally felt like you were flying through the air. The smiles, the adrenaline rush, it was so worth it. It definitely gets your blood pumping. M just amazes me as she is such a big thrill seeker in the outdoors at even her age. We make a good team.
These fun outdoor activities can have you work up quite the appetite for sure. Shepherd of the Hills offers different meals on certain days. I was delighted to be a taste tester. One thing we noticed though, Branson sure does love chicken. It was a common denominator in most of the meals!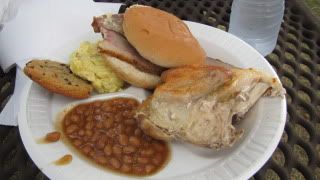 One thing for sure though, the chicken is always baked and not fried. They definitely were speaking my language with all the baked foods. Very delicious!
As we brought our day to an end, we went on a homestead tour to take a look back in time. A jeep serves as our ride and will take you through the old log cabin that was the original home of the character in Shepherd of the Hills book. The tour continues onto the second highest peak of Missouri which is Inspiration point. You will never know when a donkey will decide to up and cross your tour either so keep your eyes peeled.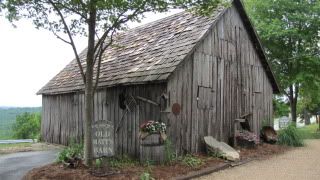 So much fun all wrapped up in a half day. I was impressed of how family oriented and the employees taking their time to tell you all about the history. Definitely recommended stop when you are in Branson. I am told that Shepherd of the Hills is what started the tourist industry in Branson, MO. I can see why people would flock.