My youngest dear daughter L is always keeping us laughing with the phrases or words she comes up with. Since I do turn these blog posts into books for my girls to keep and treasure when they grow up, I wanted to make sure I wrote a few down of what she has said lately. I'm sure you will smile and laugh as well.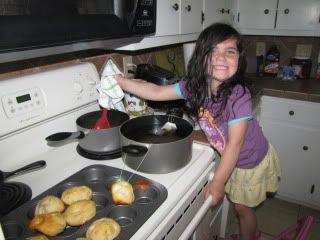 Last night, L was really wanting to get home to see her beloved cousin Noah so when we stopped for yogurt at TCBY she announced to hubby:
"Let's hurry up and finish eating daddy so we can get back to business."
My oldest dear daughter M was drawing a picture on a paint program on the computer. L went by her and took a double take and said:
"M that picture is hideous." Have no idea where she picked up that word… She is only 5?
M had a very bad stomach bug last weekend and she was laying on the couch. L goes over and jumps on her back. I said L, honey get off M's back. Her tummy is still not feeling well. L said:
But mommy, you have this observation wrong. I was laying on her back, not her tummy.
Today we were driving home from M's sporting events and L was getting a bit of an attitude. I said now L, mommy is not going to tolerate that attitude young lady. She said:
Mommy, I am not a lady. Lady means a old person.
When they are doing a project at school and L's teacher has all the kids around the table, L's teacher said L will cross her legs and lean on the table then clap her hands and say:
Ok, Mrs. W, let's get this party started. Mrs. W said they crack up laughing every time!
I so adore her. She is always making us laugh and can turn your mood from sad to happy in just a matter of seconds. Thank you L for being YOU! We love you 🙂