Congratulations to Comment #33 Charline. Check your email to claim your prize.

Did your parents talk to you about money and ways to save money growing up? I believe the numbers can be all over the board when it comes down to yes or no. I would be in the middle. My parents very rarely talked to me about money, but I paid attention to their money habits. We were not rich at all means, but I was provided for. I knew that I wanted to be better with money when I was an adult and I feel like that I am. Thinking back though, I do wish that I would have had more conversations around money.
This is why I want to change things with my girls. My husband and I are very open about money and all the reasons we need to save. For instance, when we go in the store and the girls really want that toy hanging in the aisle, I remind them that if I gave into every toy want, our family trips would not happen. It helps to educate them one-on-one with parenting advice, but having a back-up helps strongly.
Thanks to T. Rowe Price and Disney, we now have The Great Piggy Bank Adventure. T. Rowe and Disney are committed to helping families talk about saving and spending money wisely. The online game will give kids the knowledge they need when it comes to money, all the while making it fun. Another cool feature is the kids getting to experience the interactive experience at INNOVENTIONS at Epcot® at the Walt Disney World® directly online. While The Great Piggy Bank Adventure® is designed for kids from ages 8 to 14, fun-loving adults are encouraged to play with their kids and get involved in their financial education. The girls and I are having fun playing. It is so cute seeing the girls asking more questions about money and understanding why mommy has to say no sometimes.
To help kick-off this fun and interactive game, T. Rowe Price is offering one lucky reader here their very own Flip Cam!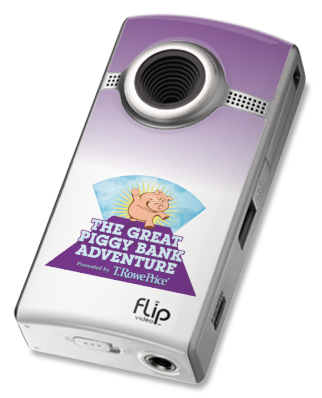 To Enter:
1. Visit The Great Piggy Bank Adventure
2. Leave a comment below on who you plan to introduce this new adventure to.
Extra Entries:
Tweet about this Giveaway
Subscribe to our Feed
Make sure to leave an additional comment for each extra entry.
Contest ends 11:59pm ET on August 1, 2011.
Disclosure: I am working on a campaign with T. Rowe Price. All thoughts and opinions are of my own.