Easter is just around the corner. I love Easter. It usually means Spring flowers will begin blooming, outside grill time with the family and we get to celebrate the resurrection of our Savior. Don't forget about shopping for a beautiful Easter dress. My eyes have been peeled to store windows and online stores for the best deal on Easter dresses for my sweet girls.
Easter is fun to create special traditions with your family. Your children will always remember these special traditions as they are growing up. Here are a few fun and inspiring Easter traditions.
Tell the Easter Story By Using Jelly Beans
– Jelly Bean Poem (Author Unknown)
Place this poem in a small bag with some jelly beans.
Red is for the blood He gave.
Green is for the grass He made.
Yellow is for the sunflowers so bright.
Black is for the dark of night.
White is for the grace He gave.
Orange is for the sun He made.
Purple is for the hours of sorrow.
Pink is for our new tomorrow.
A bag full of jelly beans,
colourful and sweet.
It's a prayer, a promise,
and a child's treat.
Easter Baskets
We love to peek out the front door each Easter morning to see what the bunny left the girls. The baskets usually are filled with HERSHEY's goodies!
Easter Crafts
Mosaic Easter Eggs Craft (Courtesy of HERSHEY'S)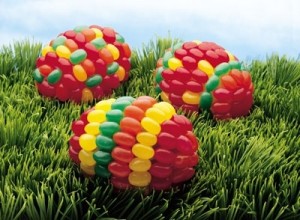 Supplies:
Plastic Easter eggs
JOLLY RANCHER Jelly Beans
Glue stick or low temp hot glue gun
Instructions:
1. Create a mosaic pattern by gluing jelly beans to plastic eggs. Begin your pattern around the center of the egg and work one row at a time, completing one circle at a time.
2. Arrange in a basket to create an exciting table centerpiece or enclose a special prize and hide for your Easter egg hunt!
3. Completed craft is for decorative purposes only. Candy used in craft should not be eaten.
HERSHEY'S Easter Buddies Craft (Courtesy of HERSHEY'S)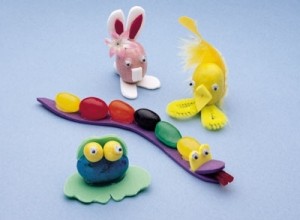 Supplies:
Pipe cleaners
Jiggly eyes
Feathers
Construction paper, felt or foam sheets
Low temperature hot glue gun and glue
HERSHEY'S Easter Candies – JOLLY RANCHER Jelly Beans, WHOPPERS ROBIN EGGS Candies
Instructions:
1. Using our buddies for inspiration, create your own creatures with HERSHEY'S Easter Candies.
2. Cut body parts out of felt, foam sheets or construction paper. Using the low temp glue gun attach candy to feet, ears and other parts.
3. Complete by gluing pipe cleaners, feathers, and jiggly eyes to add more personality.
4. Completed craft is for decorative purposes only. Candy used in craft should not be eaten.
View more Easter Crafts here.
We always have an Easter dinner after church. Sometimes it is just the four of us and other times it can be a big crowed. The dinner is enjoyable either way.
What are your Easter traditions?
Disclosure: HERSHEY's provided us with an Easter Basket. All thoughts and opinions are of my own.