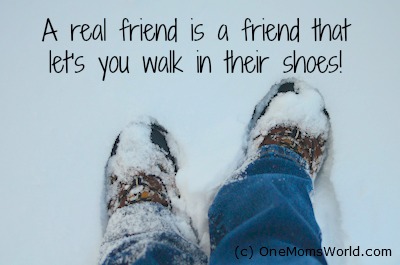 A little back story here. Last year at the Disney Social Media Moms Conference, we were able to go behind the scenes to the new FantasyLand. The construction was in full swing so all the attendees needed to wear hard-toed boots. No problem. I had a beloved pair of boots that my husband had bought me three years ago for Christmas. The best boots that allowed me to go on hikes and have fun in the snow without getting my feet wet. The boots did not let me down while touring the construction.
As we headed back to partake in a full day of exciting and innovative speakers, I changed shoes and put my boots underneath my table. Unfortunately, I left my boots there and they never showed back up in lost and found. This story can not stop there as that would not be "magical."
My dear friend and one of my bestie's, Nan Gomez at A Mom Blog, truly turned a bad situation into a good situation. She handed me her boots. The boots are in the above picture. She did not want me to go home without a pair and new she did not need them in Texas. If that is not true friendship, then I am not sure what is!
Friends are magical and filled with so many treasures. Thank you Nan for being a saving grace.
You know you have a real friend when…