You heard right!
Ocean Isle Inn and the brand ambassadors are holding their first ever NC Mom Bloggers conference and you are invited. This conference will offer an opportunity to bring the best Mom Bloggers together to work & discuss topics related to their field with other social media influencers, while maintaining a relaxed, unhurried, unforgettable experience. And since the conference is hosted by the Ocean Isle Inn there's no need to obtain lodging at an additional expense.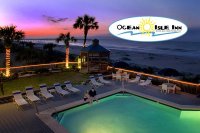 Dates: February 24 – 27, 2011
Place: The Ocean Isle Inn, Ocean Isle Beach, NC
The rates will include your hotel arrangements, full conference pass and some meals.
Rates:
$159 (January 1–31)
$189 (late Registration Feb 1—24)
We have some great speakers already on tap to help you get your blog noticed more and how to reach out to brands the correct way. I am giving just a little sneak peek into our speaker line-up. Cord Silverstein, the VP of Interactive Communications at Capstrat, will be speaking about how bloggers can get more visibility, traffic and attention online. Joining him will be Erin Lane, Director of Marketing Communications of ScanChild. It is a powerful dynamic duo and so thrilled to have them in the speaker line-up.
Also, you are going to be able to hear speak and brainstorm with all the brand ambassadors. This is a weekend to have fun and taking your blogging to a whole new level!
Tonight, you can win 1 of 2 giveaways for a full conference pass, if you join us on Twitter tonight from 7:00pm – 8:00pm EST. Make sure to RSVP if you are going to come as one pass will be picked from the RSVP's.
Ocean Isle Inn will be updating the information on speakers, sessions, etc. shortly, so keep checking back on their blog for all the updates. Let the fun begin and I look forward to seeing everyone there!