Let's take a stroll down memory lane. You go to wash the dishes and realize you used the last drop of the dish detergent last night. You reach for the next roll of toilet paper under the sink and get that uncomfortable feeling because you do not feel anymore toilet paper rolls. Your child gets sick in the middle of the night, so you go to wash the sheets and realize there is no more laundry detergent. We have all had these moments right?
Life gets busy. I get it. The grocery store list continues to grow by the inch, but if you don't actually make it to the grocery store for a few days, the list just stays on the fridge. It is evident that you run out of the household essentials. I have a solution for you. Put a monthly reminder on your smartphone to order your household products from Walmart.com. All you have to do is click your mouse, add to cart, and check-out. The products will show up at your house and you will never have to experience that moment of oops anymore.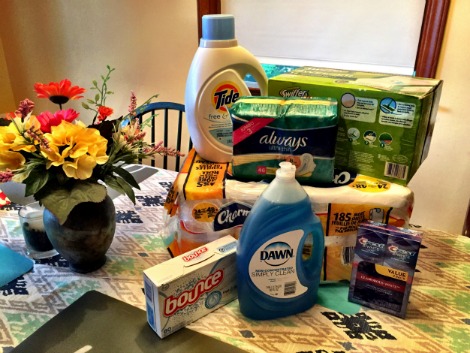 All of the above products are available at www.avoidtheoops.com. Don't struggle with the toddler on your hip or trying to fit in a quick run to the store. Visit online, shop, add to cart, and await your shipment. It is that simple.
Doing this will ensure that you will not be stranded in the bathroom, or have stinky sick sheets left on the laundry room floor. It's easy to forget to purchase these type of items. I chalk it up to mom brain. Never fear though if you set your monthly cellphone alarm. As soon as the alarm goes off, go straight to Walmart.com and place your order.
There are many things as a mom that will cause us to worry. This leads to the gray hairs multiplying on the top of our head. Online shopping is one task that can take away extra stress or worries about stocking up on must-have household essentials. The shipment will show up at your door and you can enjoy more fun family time.
AvoidTheOops.com can provide you shopping fun in the following categories:
Kitchen
Laundry
Cleaning
Baby
Bathroom
Happy shopping and enjoy living!
Disclosure: This is a sponsored post for SheSpeaks/Walmart. All thoughts and opinions are of my own.