Discussions have been brewing for a few days that President Obama was coming into town. No one knew where he would stop here in Boone, NC… but there were lots of rumors of where he would stop. Traffic was halted across all highways here in the mountains this afternoon and we awaited to see where he would stop or if he would stop at all. He surprised everyone with a stop at our beloved Mast General Store.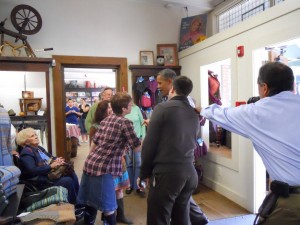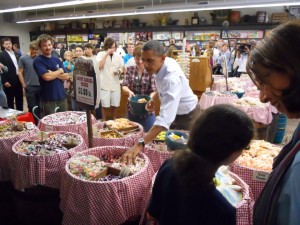 Mast General Store first opened its original store in 1883. You can still visit the original store as we were just there Saturday. I grew up going to the Candy Barrel and it was a huge treat. Now, my girls love going to the Candy Barrel as well. The candy from the yesteryears is still served at Mast General. Lemon heads anyone? It looks like that the President may just be a new fan of the Candy Barrel as well.
As the President headed out of town, he took the time to give a wave to everyone lined up on the streets of downtown Boone.
Photos Courtesy – Mast General Store