We experienced a taste of Spring this past weekend. The entire family enjoyed being outdoors.
With spring around the corner, I wanted to share a great outdoor activity that needs to be checked off your adventure bucket list. High Gravity Adventures, an exciting high ropes playground located in Blowing Rock, N.C., allows guests to climb, balance and swing from heights as high as 50 feet or as low as 15 feet. Visitors are often surprised to learn certain facts about High Gravity Adventures, so we've have a list of five things most people don't know about aerial adventure parks. This ropes course will be opening back up for the season on March 18!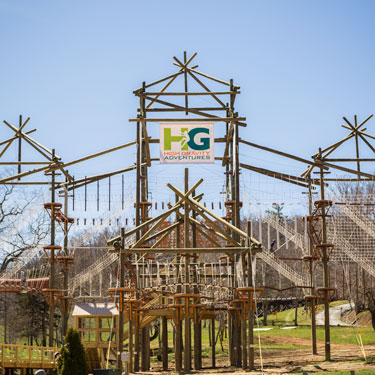 1.       A Course for Kids – The whole family can experience aerial adventure together. Kids four-years-old and up are welcome to enter the aerial world on High Gravity Adventure's Kids' Course. With a responsible adult present, kids will have their very own elements to discover and explore. They can explore the Kids' Course solo or have a guardian accompany them for a joint experience.
2.       Choose Your Challenge – High Gravity Adventures includes 75+ different aerial challenges that range from 15 to 50 feet in the air. There are many elements to choose from, such as walking over aerial bridges, crossing tight-rope walks, swinging through floating foot loops and traversing giant spiders' webs.
3.        No Experience Needed – No experience is required when exploring the vertical world. With challenges of varying difficulty levels offered, there is something to please hardcore adventure seekers as well as people who prefer to keep theiradventure closer to the ground. The aerial challenges are diverse and match up to a variety of skill levels.
4.       You Are the Decision Maker – Unlike zip lines or canopy tours, you get to the make the decision of what route you want to take and the height with which you are comfortable. Whether you want to stay at 15 feet or climb all the way up, the decision is entirely up to you at High Gravity Adventures. There are a variety of ways to make your way through the course, and guests have the freedom to take as many breaks as they want.
5.       Safety is Priority – High Gravity Adventures utilizes state-of-the-art safety systems and the latest technology. The owners and staff of the course pride themselves on adhering to industry leading standards for construction, inspection, equipment and staff training. Before entering the course, each guest will be required to attend a mandatory orientation—"Ground School"—where they'll be educated on helmet and harness fitting, how to use personal safety tethers, course procedures, and how to enter and exit the course.