The super bowl is this weekend and have a delicious dip to share with you. Honestly, we have been sneaking in this dip at least once a week. It is that easy and not to mention so delicious!
The first time we made the dip, we turned it into a taste test.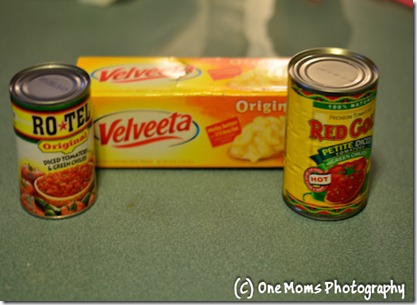 We received a shipment from Red Gold so we could try out their line of diced tomatoes. They are a family-owned company that grows some of the most sought-after tomatoes in the natural conditions of the Midwest (no hothouses). Red Gold has been around since the 1940s focusing on growing local in the Midwest where true seasons impact the flavor of tomatoes. The Midwest, while it's cold in the winter, has the perfect growing season for tomatoes, perfect angle of the sun, perfect temps — and even the winter is good for tomatoes, as it breaks up the soil for tiny root systems. Red Gold grows its tomatoes in Indiana, Michigan and Ohio. I love supporting family-owned companies so I was hoping we would not be disappointed in the taste.
Ingredients:
1 (10 oz) can of petite diced tomatoes with green chilies
1  pound (16 ounces) pasteurized prepared cheese product, cubed
Directions:

In microwave safe bowl combine the diced tomatoes with green chilies and cheese. Microwave on HIGH for 5 minutes or until cheese is melted; stir after 2 minutes.
Serving suggestions: Serve with hot bread sticks, tortilla chips or assorted fresh vegetables.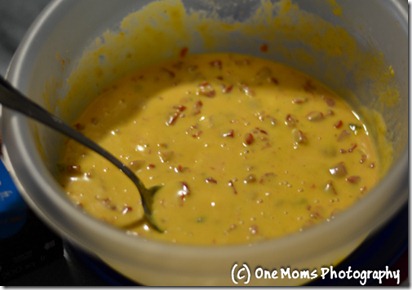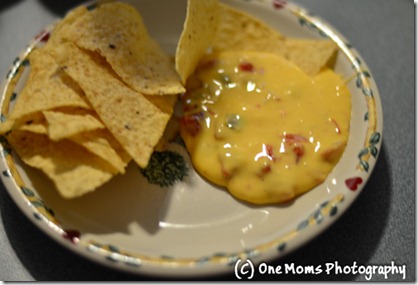 We did the recipe once with Red Gold and once with Rotel. The winner of the taste:
3 to 1 – RED GOLD
Little Sis was a fan of the Rotel while the rest of us were fans of RED GOLD!
We are gathering up our Red Gold and Cheese for the big game Sunday. After all, It is the easiest dip and tastes so delicious.
Disclosure: A big thank you to Red Gold for sending us their line of products. All thoughts and opinions are of my own.