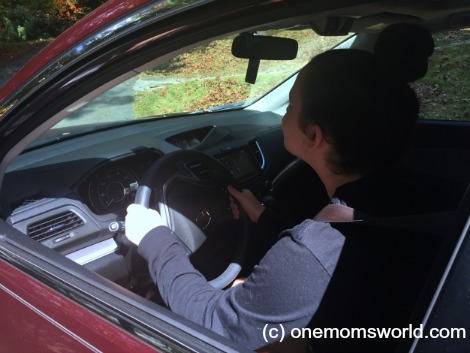 This will be my view in a year. My oldest daughter will be driving the highways. How is this possible? You can imagine the worries that are already settling into my brain. Did you know there are over ten million teenage drivers in the United States? It's okay, don't panic! But with so many new drivers on the road, it is critical that we encourage our kids to make the right choices any time they get behind the wheel.
With Teen Driver Safety Week taking place this week, Growth Energy has a few tips for teens – and their parents – to encourage smart, safe choices before hitting the road.
Buckle Up: Buckling up saves lives, it is that simple. The National Highway Traffic Safety Administration recognizes that seatbelts reduce the risk of fatal injury to front-seat passengers in cars by 45 percent and light-truck occupants by 60 percent. Since 1975, buckling up has saved an estimated 255,000 lives. Unfortunately, teens are least likely to use a seatbelt compared with other age groups. We should remind our kids that a simple act that takes two seconds to complete can have profound consequences.
Avoid Distractions: According to the Pew Research Center, over 80 percent of 16 and 17 year olds have cell phones, most texting a mile a minute. And half of teenagers say they've been in a car while the driver was actively texting. It is not a surprise then to learn that ten percent of all fatal wrecks with teen drivers were a result of distracted driving. Remind your teen that they need to put the phones down and focus on the road. Keeping the number of passengers in the car to a minimum is also valuable advice.
Maintain a Safe Car: National Teen Driver Safety Week falls right in the middle of Fall Car Care Month. This is a good reminder that vehicle maintenance is a necessary chore. Be sure your teen knows when to change their oil, check tire pressure and schedule regular maintenance. All these things will help keep your teen's car running optimally and safely.
Fuel Choice: Drivers today have more fuel options than ever before. Teen drivers who drive 21st century vehicles should consider a modern fuel option – E15. This fuel option is 15 percent ethanol, up from the 10 percent ethanol blend found in E10 – the fuel most of us are already using in our vehicles. Although drivers have been using E10 for years, the additional benefits of E15 may be news to many:
– Lower-cost: Teens on a budget (and moms!) are always looking to save a buck. Ethanol lowers the cost of gasoline, and choosing E15 will keep more money in their wallets.
– Environmentally-conscious: Many teenagers care deeply about the wellbeing of the environment. After all, they're going to be dealing with the effects of global warming and pollution for decades to come. Ethanol is a homegrown, eco-friendly biofuel that reduces greenhouse gas emissions and replaces toxic alternatives which have been proven to cause cancer and smog. Using E15 will help make the air we breathe cleaner and healthier for generations to come.
– Good for their car: E15 is a modern fuel that is a high-performance option for any car made since 2000. It runs cooler and causes less wear and tear on expensive engine parts.
To find the closest E15 station, you and your teen can visit www.GetEthanol.com and begin to take advantage of this next generation fuel today!
Disclosure: This is a sponsored post. This is a topic we feel passionate about. All thoughts and opinions are of our own.