I am so excited to tell you that Walmart and P&G are teaming up to bring back family movie night tonight on NBC at 8 EST/7 CST.
The movie is named "A Walk in My Shoes." This movie is a quality family entertainment that your family will all enjoy. It is very heart-warming. So put on the popcorn and grab the hot cocoa and make it a family movie night tonight!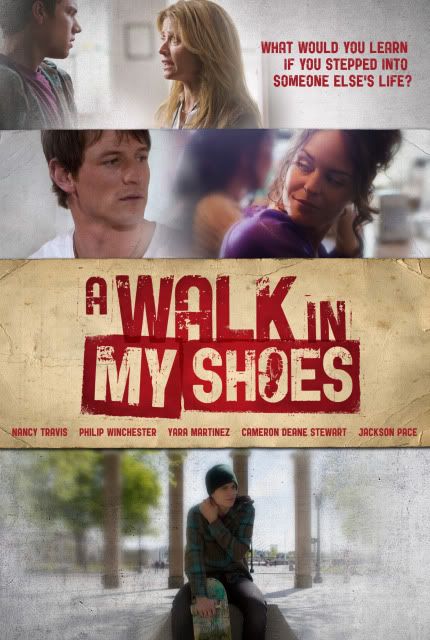 "A Walk in My Shoes" makes viewers stop and think, "What would I learn if I stepped into someone else's life?" Stressed-out high school teacher Trish Fahey (Nancy Travis, "Three Men and a Baby," "Becker") can't understand her students' lack of effort in the classroom and why their parents don't seem to care. This is especially true of Justin Kremer (Cameron Deane Stewart), a popular, skateboard-loving, basketball star who is underperforming in her class. Trish has him suspended from the basketball team and quickly chalks up the situation as a case of bad parenting.

This perspective dramatically changes when Trish meets Molly (Yara Martinez), a mysterious stranger intent on helping her see things differently. After a car accident, Trish wakes to find herself living the life of Cindy Kremer (Jana Lee Hamblin), the woman she has rashly judged and criticized. Molly helps Trish discover that there is more to the story and learns a powerful lesson that affects everyone she interacts with, including her husband, daughter and the Marine next door. No one is left unchanged.
One of our favorite music producer's Randy Jackson has once again produced a movie soundtrack for "A Walk in My Shoes" with tracks from some of today's hottest artists. The soundtrack will be bundled with the DVD and available tomorrow December 4, 2010 exclusively at Walmart.
WIN IT!
I am so happy to be able to do a giveaway for my readers for one of the DVD/CD soundtrack bundle.
How to Enter:
1. Leave a comment to let me know if Family Movie night is a tradition at your house.
It's that simple. Make sure to tune in tonight on NBC at 8 EST/7 CST and enjoy a wonderful family movie night. I know we will :).
"A Walk in My Shoes" viewing kit and DVD bonus pack was received from P&G and Walmart in exchange for my honest review/opinion.