As many know me, I am queen of quick, easy and healthy meals. Thanks to my great friend Cindy over at Cin's Out Numbered and Loving it, Chicken Cups makes a regular stop on our dinner table. I actually posted a picture on Facebook tonight and many commented requesting the recipe. I thought I had shared this recipe here with my readers, but after researching old posts, there was no trace of the recipe here. I am so sorry for holding out on you. Believe me, you are so going to enjoy this recipe and the entire family will as well.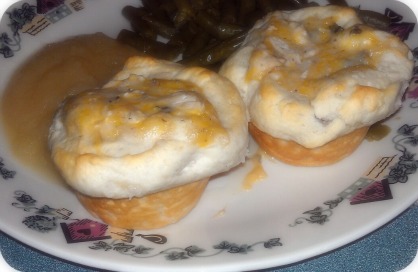 Ingredients:
1 can Buttermilk Biscuits (10 biscuits)
1 cooked chicken breast, cut into small pieces
1 can Healthy Request Cream of Chicken Soup or Cream of Mushroom Soup (we prefer the mushroom soup)
2/3 c. Fat Free Shredded Cheddar Cheese
Preheat oven to 400 degrees.
Directions:
1. Mix all the ingredients in a bowl.
2. Place each biscuit into a muffin pan.
3. Press the biscuits into the muffin pan holes to form cups.
4. Spoon mixture evenly into cups.
Bake for 12-15 minutes or until golden brown.
From my notes, 2 chicken cups = 5 points. 3 chicken cups = 7 points. Enjoy!