I remember from my childhood the Zest commercials where someone would hold the towel on their back while singing "Zestfully Clean". Isn't it amazing what commercials stick in our mind? Here is a throw back video of the commercial.
Zest has released a new product that will give your shower experience a fruitful makeover,
Zest Fruitboost
.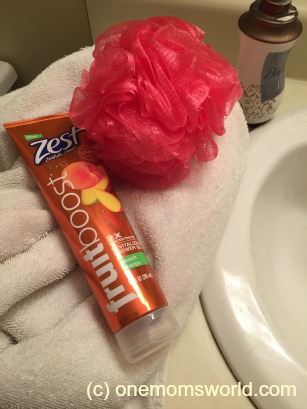 Click to play so you can hear Big Sis and my thoughts on this new shower product:
The clean fruity scent is definitely what I enjoy the most. The new innovative, revitalizing shower gel helps reveal beautiful, glowing skin with rich moisturizers and the antioxidant power of Vitamin C to help nourish your skin. It's also twice as concentrated as the average shower gel providing double the lather and double the scent, and can be used to up to 40 showers making it a great value. It only takes a dime-sized amount on a shower puff. It will boost your shower experience! The new Shower Gels are only at
Walmart
. My budget friendly readers and friends will love that it costs less than $3.00. If you use the coupon on the
Zest website
, you can get it for just $1.98. It is easy to find at Walmart as the gel is with the other Zest products. The three scents are: – Peach Mango, Citrus Splash and Very Berry today! Find Fruitboost at a
Walmart
near you.
We went ahead and did a total makeover on the bathroom. It's clean and smells so great which makes for a refreshing shower experience.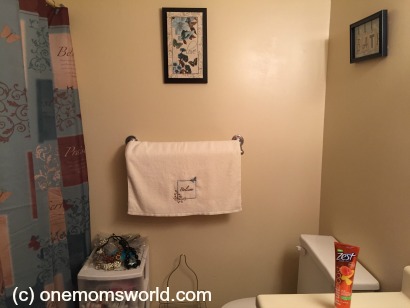 Giveaway
One lucky reader will win a full collection set of the new Zest Fruitboost. Please leave a comment below with your favorite scent! All comments should be posted by December 6, 2015, 11:59 p.m. One winner will be picked on December 7th.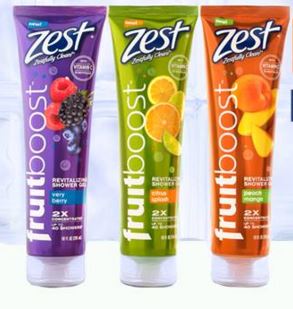 We will be Zestfully Clean!
Disclaimer: This is a sponsored post with Zest. As always, all thoughts and opinions are of my own.