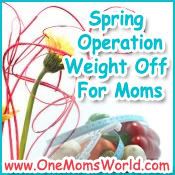 I am finally able to get online and blog. Hooray for this! The move went ok. I got teary eyed quite a few times driving up here to NC from Florida. Also it didn't help matters that Lyndsee my youngest was vomiting on the whole trip and it continued till yesterday. I believe we have figured out the culprit and hopefully we can get her on the mends soon!
I have to say… I have been doing so good with my healthy eating. It hasn't been easy to not touch temptations that I see some family members eat, but I just go get my water or rice cakes!
I know my pants are getting looser as well but there is no scale here at my parent's house, so hopefully I can get one Friday. Today I walked 2 miles with the girls and then this evening one mile by myself. Its all downhill going down then uphill coming back so its quite a workout. I was proud and hopefully can keep this up.
So link up everyone.. here we are in week 5. I want to hear how all of you all doing. I know I do wish the pounds would go away quicker, but they say losing it at a steady pace is a healthier so I keep telling myself that.
Let's hear it moms!