It's my favorite time of the year. Christmas in the Carolinas can bring forth great joy for your family. North Carolina is an amazing state as we have the beautiful blue ridge mountains on the western side and the great Atlantic Ocean beaches on the eastern side. In no particular order, here are our top ten Christmas events you will enjoy with your family this holiday season!
1. Christmas at the Billy Graham Library: From December 1, 2015 until December 23, 2015,  you and your family can enjoy this event by taking a short drive down Highway 321! Beginning at 5:00 pm each day (except Sunday), you will see the beautiful Billy Graham Library all decorated for Christmas. Your family can enjoy the live nativity scene that offers a glimpse into the first Christmas. Enjoy horse-drawn carriage rides ($7 for adults, $3 for children 12 and under) through beautiful light displays. (Begins at 5 p.m.) Listen to heartwarming sounds of joyful carolers and festive Christmas music and a delightful story time with the kids.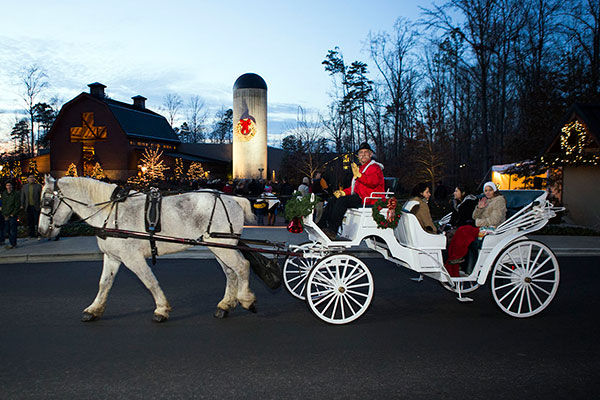 2. The 23rd National Gingerbread House Competition, the largest of its kind in the U.S. and hosted by The Omni Grove Park Inn, is taking place Monday, November 16! To celebrate the annual event, the edible gingerbread masterpieces will be on display at the property from Nov. 18, 2015, through Jan. 3, 2016. This holiday season, The Omni Grove Park Inn will also be dressing up, displaying 80-themed Christmas trees, thousands of twinkling lights and multiple roaring fireplaces throughout the property — with the sweet scent of gingerbread in the air. Since launching the contest in 1992, the competition remains a beloved celebration at the historic Inn, with resort guests and visitors eagerly anticipating the hundreds of intricate and stunning holiday designs on display.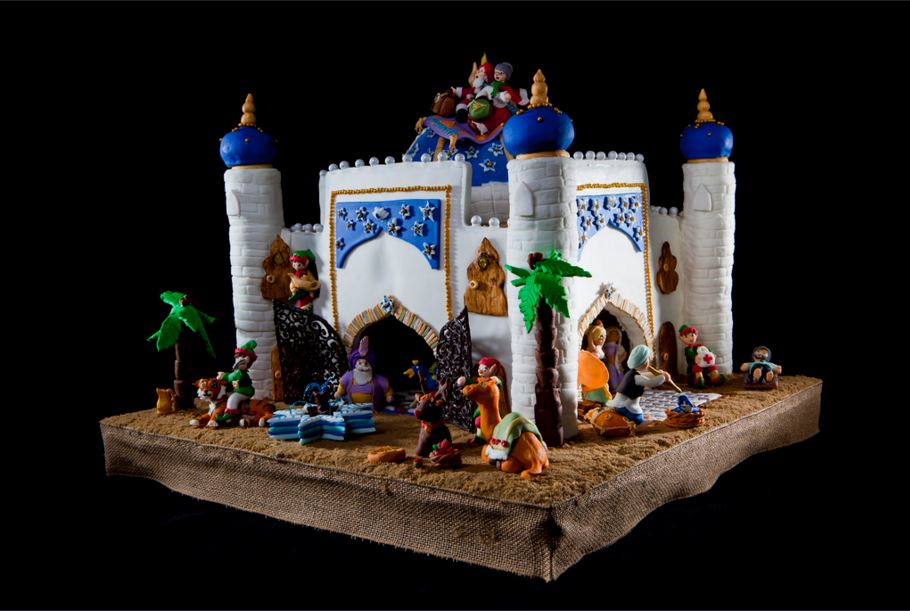 3. Speedway Christmas – (November 21 – December 30) Speedway Christmas is returning to Charlotte Motor Speedway and is even bigger and better in its sixth year. Speedway Christmas will have over 3,000,000 lights with a new and greatly improved lights-to-music drive-thru section!
Christmas Village will be open Thursday-Sunday and will include a petting zoo, Bethlehem village, horse-drawn wagon rides, photos with Santa, and more.
Movie nights have been expanded to every village night – Thursday through Sunday! Come see your favorite Christmas movies like Frozen, Elf, and more on a giant 16,000-square-foot high-definition TV!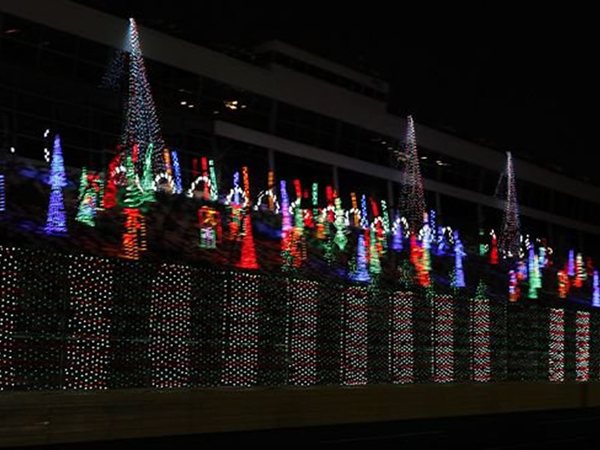 4. Chetola Resort Festival of Lights – Chetola has a beautiful array of Christmas lights that your family can take a stroll or drive thru for free. They also have Blue Ridge Mountain Holiday Packages that your family can take part in and create wonderful Christmas memories.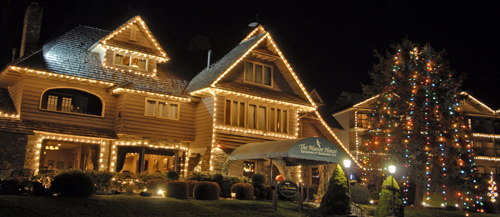 5. McAdenville Christmas Town – I have been visiting McAdenville since I was a little girl. This will be the 60th year that this little town has turned into a Christmas Town. There is no charge to go see these lights and your will create new Christmas memories each time you go. The lights are turned on December 1st through December 26th. Monday through Friday the lights are on from 5:30 to 9:30pm and on Saturday and Sunday nights, the lights are lit from 5:30 – 11:00pm.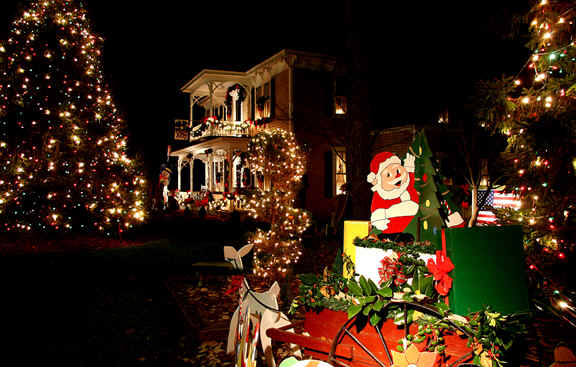 6. Beary Merry Christmas officially begins with "Light Up the Season," an annual family event that welcomes Santa and illuminates Bear Plaza with hundreds of lights Nov. 27. During the following days during this festive holiday celebration, you can enjoy a Mistletoe March, sledding, shopping and other activities.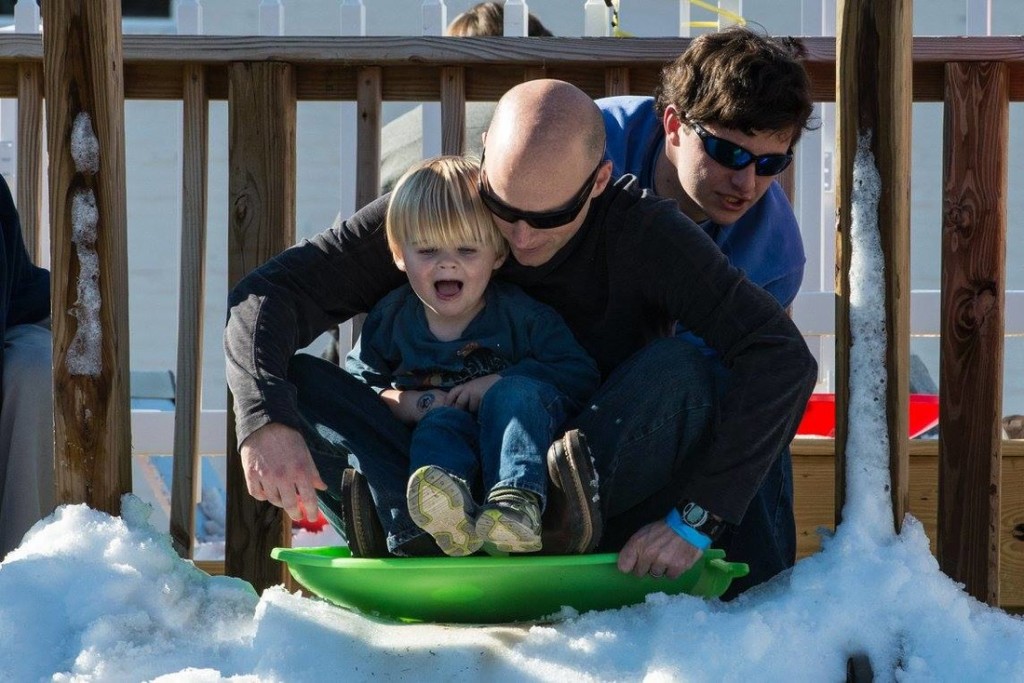 Photo Credit: bearymerrychristmas.com
7. Meadow Lights – Located in Benson, NC. Their website says: "The largest and oldest Christmas attraction in Eastern North Carolina!" Meadow Lights began more than 40 years ago and they keep growing larger with lights every year. Some of the displays include an authentic manger scene, carousel scenes, and much more. The Meadow Lights also offers three trains that travel through a colorful area of lights that children and adults can enjoy.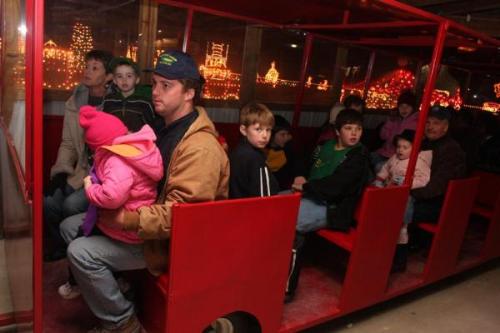 8. Tanglewood Festival of Lights – Tanglewood is another fun festival of lights that has been a long tradition of my family's Christmas! My girls enjoy this so much. We ride through with our windows rolled down and just ohhh and ahhh over all the lights. Each year Tanglewood will add more additions so it is fun to see the new traditions. Also, halfway through the lights, you can park and go through a Christmas shop from local crafters. When you finish shopping, you can go go the the fire pit and stand around and roast marshmallows. The Festival of Lights is open nightly from November 21 through January 3, 2016 from 6:00 – 11:00 pm, including holidays. Suggestion: Attend Monday, Tuesday, or Wednesday to avoid long lines.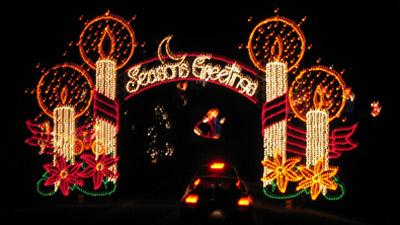 Rates are the same throughout the week.
– Family: cars, vans and trucks: $15
– Commercial: vans, limos and mini-buses: $35
– Motorcoaches and buses: $100
Save money by coming on a Discount Night:
On the following nights ONLY, receive reduced pricing!
– Monday, November 23rd
– Tuesday, November 24th
– Monday, November 30th
– Tuesday, December 1st
– Family: cars, vans and trucks: $5
– Commercial: vans, limos and mini-buses: $15
– Motorcoaches and buses: $65
9. Lights on the Neuse – Clayton, NC is the place for a fun family Christmas hayride. Their site says: "The hayride whisks you and your loved ones away to a transformed world of Christmas spirit. Pause to reflect on the true reason for the season, celebrate the joy of the birth of Jesus and feel the merriness of Christmas cheer and magic invade you and your family members with an outstanding Christmas Lights Extravaganza at Lights on the Neuse." Ticket prices are Adults (12 and over) – $10 and Children (3-11) – $7.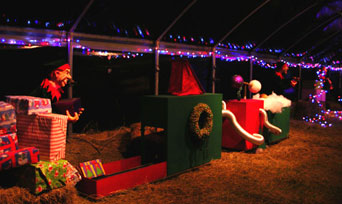 10. Christmas at the Barnyard – (Newport, NC) Celebrate the Christmas season Barnyard-style! Enjoy an evening farm tour petting the animals under hundreds of Christmas lights and decorations. Let the kids visit with Santa in his big red sleigh while sipping on hot chocolate. Hang out with your family by our bonfire as you listened to Christmas music and watch the lights on the farm twinkle. All activities are included in the gate fee except hot chocolate. Decorated live Christmas wreaths for sale.
Admission: Gate fee is $6 per person, 2-years-old and older; under 2 is free