I have spent day and night of the last week with my wonderful Grandma. I am going to miss her so much. It has been so hard to see her struggle each and everyday but I am so thankful I had each and every day with her. Her last words to me was "I Love You Jennifer" and I will treasure that always. Her last night here on Earth was just her and I in the room. She was so peaceful and I am so happy we had that one on one time. I am speaking at her funeral today and wanted to share with you what I will be reading. It's going to be hard the days to come but I am just praying for God's strength to get me through these days! Thank you all so much for the kind words, prayers, messages and phone calls. It really has helped me so much.
Nellie Houck
July 30, 1913 – February 20, 2010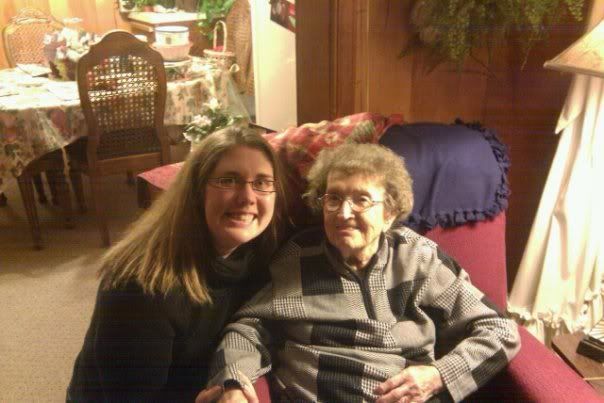 "Love the Lord your God with all your heart and with all your soul and with all your strength" from Deuteronomy 6:5 NIV.
That bible verse reminds me of my Grandmother for sure! She just loved life and all the people that were involved in her life. Inspiring… Motivating… Hero! Those three words are just some of the adjectives that I would use to describe my wonderful Grandma.
It is no secret that my 96 year old grandmother was my best buddy. I am her youngest grandchild and so you know how that goes… the youngest is the baby ;). She spoiled me in so many ways with all the baby dolls she would buy me or all the clothes she would buy me. It didn't matter if it was blue plaids with yellow stripes going down the sleeves, she wanted me to wear them and I would do so with a smile! If mom and dad would jump on me, all I had to do was call Grandma. She would say now Bill and Jean, Jennifer is too cute to do that! I had her wrapped around my finger and she knew she was the apple of my eye.
I spent my summers as a little girl at her house way up in the country with no stores very near. I didn't care, because I was with my grandma. We had flowers to water, vegetables to pick, long walks to make across the old wooden bridge and cold watermelon to get out of the cold creek behind her old mountain house to have for a summer snack. I would raise my head in the mornings and always hit the ceiling because I was jumping out of bed so fast since the chocolate gravy aroma was filling the air. There is no doubt she knew how to make some mean chocolate gravy.
Grandma and Grandpa decided to trade the country roads for the big city roads of Lenoir, NC. Once they got settled in, most Friday nights you would see me having sleepovers with Grandma. She always said she loved me having the sleepovers but she didn't love all my kicking her ;). Hey, I was just trying to let her know that I loved her with all my love taps! I would wake-up to the never-ending pancakes each Saturday morning. My cousin Shana can vouch for this one as she came up and had a sleepover with me at Grandma's. She kept bringing out the pancakes and it was all Shana and I could do was to eat them. At this point, I was wishing there was a doggie in the house to help us eat them because as we all know there was no telling Grandma you did not want anything to eat. You could say no 20 times, but she was not taking no for an answer. So you just kept on eating right?  When I was in high school and would get a break for lunch before I headed to work, I would go to Grandma's every day. She would have the biggest lunch for me prepared each time. Food and Grandma went hand in hand for sure. The thing is though, the food was going straight to my hips and Grandma was not shy letting me know that I was getting fat. Over the years she would say Jennifer you are getting way too big and at one time asked if I was pregnant because my belly was so big. That is what I loved about Grandma, she would tell you like it was. If she thought you were fat, she would tell you, if she hated how your hair was cut, she would tell you, if she thought your clothes didn't look right on you, she would tell you. That was just Grandma. She was blunt, but she was still my best buddy.
With all her bluntness was still very much jokiness. She could make one laugh so much and there would be so many times the things she would say, that would just make you want to roll in the floor and laugh. She would call my work and she knew my extension but every time she would get the numbers transpired and end up calling the President of our company. At times to, she would end up back at the operator and just carry on conversations with both of them. Luckily I was really good friends with the operator and she knew every time that it was my Grandma, and would just go right along with the conversation and eventually Grandma would get to my extension. She would say Jennifer, I don't know who I have been talking to but they were the nicest people. It didn't matter who you were, she was going to do her some talking. For example, we would be in a grocery aisle and she would just walk up to some random person and ask them about the nutrition facts on the back of the can or ask them if they ever had tried that particular food. She never met a stranger that is for sure.
I have told these little stories to make you smile and remember Grandma, but there is one thing everyone knew for sure. Grandma, was a huge believer in the word of God. Growing up she would read me to me from the Bible and the Guideposts magazine. Just last month I started my own subscription to the Guideposts and going to pass that tradition on to my girls. She was a big believer in prayer too. I have definitely learned from her that prayer works and God has a plan for all of us. We need to make sure we follow his lead and stay on his path he has for our life. Grandma would not want it any other way.
I am going to leave you today with a little poem that I have written just for my Grandma Nellie Houck.
G is for the greatness you gave to me all through my life.
R is for all the rejoicing you would give me with every milestone that I would hit in life.
A is for amazing me so much.
N is for the noteworthy Grandma you were always to me.
D is for the determination you had each and every day.
M is for the magnificent legacy that you left behind and I will carry with me each day.
A is for the angel that I now have always looking after me!
I love you Grandma! You are my hero!