One of my goals this year was to be more fashionable with my clothes. My wonderful hubby was a bit over my lounge wear that I would always wear around the house. I actually was a bit over the old frumpy clothes as well. Now, I love to get all dressed up even if I have no place to go.
During BlogHer this year, I was turned on to a very cute and stylish technique but yet it is so easy to do. Now, everyone knows that scarves are such a hot item all year around these days and now here is just one more way that you can incorporate the scarf into your daily wardrobe.
Big thank you to Carolina Mama for turning me onto this cute style. I am loving it. As you can see here in this picture, Carolina Mama was getting interviewed by Yahoo! and it clicked to me on how she was wearing her scarf as a belt. Is this not just the coolest idea?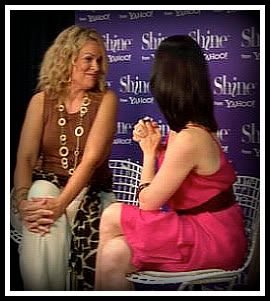 So now, I am hooked. It is so easy to tie it too. All you have to do is take the scarf and wrap it around your waist. I then take the scarf and tie it in a knot on the side of my waist. On the opposite side of my waist, I will widen the scarf to fit properly over my waist. Here I am on two separate occasions over the last two weeks. Just look how it can turn a dull outfit into such a fashionable style!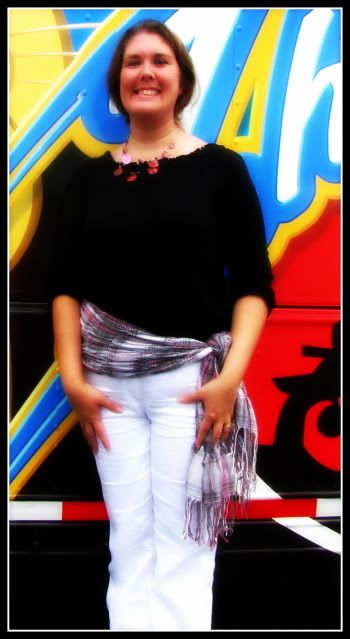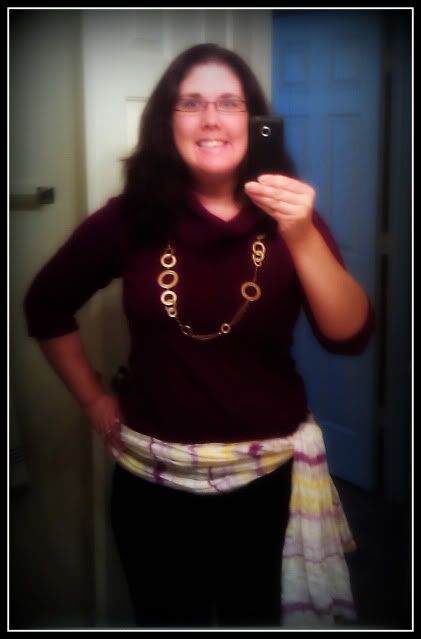 What do you think? The new style of the season! I will definitely be using my scarves more as a belt this upcoming fall season.