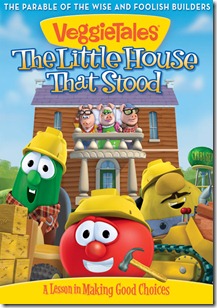 We are so excited about this new release. Tomorrow night, we are doing a movie premier at our local Chick-fil-A. I know it is going to be so much fun and seeing all the kids facial expressions will be priceless.
VeggieTales has adapted this new release from a childhood favorite: "Three Little Pigs"
The Wise Pig Built His House Upon the Rock!
When the Three Little Pigs roll into town looking to build some new houses, they meet one builder with a plan and two without a clue!  Larry builds with hay, Mr. Lunt builds with bricks, but only Bob builds his houses on a firm foundation – following the wise plans from the "Master Builder's Handbook!"   Will they choose the right builder that will keep their houses – and their lives – on solid ground?  Find out in this pig's tale that shows kids that when we follow God's blueprints, we can make the right choices!  PLUS:  Ever wonder what happened before Humpty cracked?  Find out in this very Veggie retelling of the classic Humpty Dumpty story in "The Good Egg of Gooseville".
Here is a cute printable craft you can do with your children.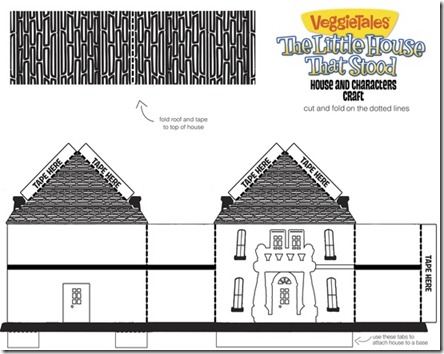 Click here to print the house
Click here to print the characters
This will be a perfect movie to add to your child's Easter basket. If you purchase the DVD at Walmart stores on Tuesday, March 5th when it is released, you will receive an exclusive FREE 24 pc. puzzle! Before you go to purchase, click here to print this coupon to save $3 on the movie.