Congratulations to Comment #3 and Comment #29. You both should have emails!
For the first time in 7 years, VeggieTales has released a new Easter show – "Twas The Night Before Easter." As you all may know, we are huge fans of VeggieTales around here. My girls have grew up with VeggieTales and were so excited about the new DVD. As soon as it came in the mail, we had to pop it in the dvd player right then. Over the past few weeks, the DVD has been on constant replay in our car dvd players.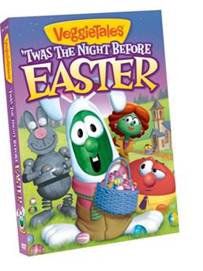 It's Easter time in Crisper County and cable news reporter Marlee Meade (Petunia Rhubarb) is hunting for a way to help others. On a tip that the old town theater will be shut down, Marlee cooks up a plan to save the stage and make a difference through the power of musical theater. With a cast of costume-clad townies, massive props and a 20-foot robot rabbit – "Up With Bunnies" is hatched! There's only one thing missing – the star of the show! When news spreads that singing sensation Cassie Cassava (Melinda Doolittle) is arriving to perform in her hometown church's Easter service, Marlee gets worried. Concerned about the competition, she schemes to steal the starlet for her own pageant! But when things go haywire, will it be curtains for Marlee's dreams – or will she discover the true meaning of Easter and what helping others is really all about?
The girls were very excited about the new character Cassie. Cassie Cassava, inspired by the cassava root, which is a primary source of food for developing nations in Africa and South America. This vegetable was suggested by World Vision, and it's been fun to see Cassie come to life! Her character is a singing sensation with a golden heart, who returns to her hometown to perform at an Easter service, but instead ends up getting roped into all sorts of veggie silliness and antics. You'll have to watch the DVD to find out what happens!
I asked my girls what were their favorite parts – in their words:
M: "Larry makes a big bunny and he pushes the red button. The big bunny carries the bus over the big snow hill"
L: "The VeggieTales rising up on the stage. I loved the songs too as I keep singing along to them all now."
What did the DVD teach you?
M: "Mommy, the DVD taught me that I shouldn't just care about chocolate bunnies but more about Jesus."
L: "I learned that Easter is about Jesus and not just the Easter Bunny."
Do you know how much this warms my heart? I was smiling ear to ear and I couldn't be more proud. This is what the DVD is all about thanks to World Vision. The show is dedicated to showing the children the real meaning of Easter and how to help others. VeggieTales partnered with World Vision on the release of this DVD. In the extra features section you can find all-new animation featuring Bob and Larry encouraging child sponsorship through World Vision! Will you help please?
WalMart has the "Twas the Night Before Easter" on sale in stores now for $11.96.
We have also been jamming out in the car to the VeggieTales Hosanna! The girls and I sing as loud as we can to this DVD every time we get in the car. Shhh… I play it when the girls are not even in the car with me too and still sing loudly. The songs are just so inspiring and uplifting to me even as an adult.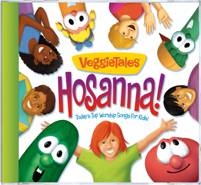 The Hosanna! CD includes ten all new easy-to-sing worship favorites made popular by some of today's top worship artists – sung by beloved VeggieTales characters and kids just for kids! Amy Grant sings the title track, "Hosanna," and lead vocalist Mark Hall of Casting Crowns, named Billboard's No. 1 Top-selling Christian Band of 2010, lends his voice on the group's No. 1 radio hit, "Who Am I." Also included are Veggie arrangements of Israel Houghton's upbeat "Just Wanna Say," Chris Tomlin's "Amazing Grace (My Chains are Gone,") Hillsong LIVE's "Mighty To Save" and Brenton Brown's "Everlasting God," to name a few.
WIN BOTH!
That is right, my friends. Thanks to VeggieTales, I am able to offer two luck readers a VeggieTales Easter Giftpack including the "Twas the Night Before Easter" and a CD of VeggieTales "Hosanna."
To Enter:
1. Leave a comment on who you would gift this awesome gift pack too.
For Extra Entries:
Join One Moms World on Facebook
Join VeggieTales on Facebook
Tweet About This Contest
Subscribe to our Feed
Make sure to leave an additional comment for each extra entry.
Contest ends April 13, 2011 at 11:59pm ET so I can ship it to you in time for Easter!
Disclosure: VeggieTales provided copies of the DVD and CD. All thoughts and opinions are of our own.