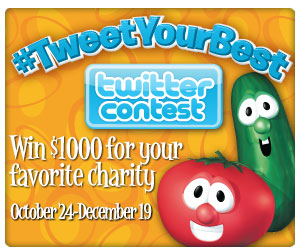 It is the most wonderful time of the year. I love this time of year and it is absolutely hands down my favorite time with all the seasons. Exciting news this week as VeggieTales released their new Christmas 2011 DVD release, The Little Drummer Boy. My precious L has already watched the DVD at least ten times. It is the DVD she chooses every time we get in the car. I will be putting up my full review soon with a giveaway.
Join VeggieTales on Twitter this holiday season to "tweet" your best – to tweet all you can to support your favorite cause! VeggieTales is launching the Twitter hashtag #tweetyourbest – a simple Twitter-based campaign to help YOU support your favorite charity this Christmas season.
Tweet about your charity and use the hashtag #tweetyourbest – and encourage your followers and fans to do so as well! Include @VeggieTales in your tweets for a chance for it to be retweeted by the official VeggieTales Twitter account.
VeggieTales will follow the hashtag to discover which charity is getting the most buzz. On December 19th, the campaign will end and VeggieTales will make a $1,000 Christmas donation to the winning charity!
How to participate:
• Decide what charity (or charities) you want to support through the #tweetyourbest
campaign.
• Ideally, pick a charity that has a Twitter presence, and/or Facebook fan page and
web site so you can tell people where to access information about the charity.
• Start tweeting about your charity!
• IMPORTANT: Use the hashtag #tweetyourbest everytime you tweet about your charity so that VeggieTales can follow it and see who you are promoting.
• Include @VeggieTales in your tweets when possible, and we may retweet you to help spread the word about your cause!
• Get creative with your tweets! Think of different ways you can support your favorite cause by highlighting different aspects of the charity that you love and appreciate.
• Example tweet 1: I love sponsoring a child through @WorldVisionUSA – you should too this Christmas! #tweetyourbest @VeggieTales
• Example tweet 2: Better moms make a better world. I'm a @MOPS mom & you should be too! #tweetyourbest @VeggieTales
• Example tweet 3: Pack a shoe box and share God's love with kids! @OCC_shoeboxes #tweetyourbest @VeggieTales
• Take these examples simply as suggestions, and not a template for what you have to say.
• Spread the word! Engage your Facebook fans, friends, and family to tweet about your charity. Email your network about what you're doing, so they can tweet too.
• On December 19th the #tweetyourbest hashtag contest will end, and VeggieTales will select a winning charity based on which one generated the most buzz.
VeggieTales will make a $1,000 donation to the winning charity.