The rumors that have been swirling around for months are finally put to rest as Verizon announced today that they will now be a carrier for the iPhone. Starting on February 10, 2011, if you are on the Verizon network, you will be able to get the iPhone 4. Prices will start at $199 with a 2 year contract for a 16GB iPhone 4 if you are a new customer or are eligible for your new every 2 upgrade.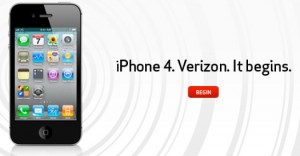 If you are are not eligible for an upgrade, then you will have to pay full price for the iPhone 4 in order to qualify for the new phone. Also, AT&T customers don't plan on bringing your current iPhone 4 over to the Verizon network. If you change over to Verizon, you will have to purchase the Verizon version of the iPhone 4.
You can pre-order the iPhone 4 with Verizon online only as early as February 3, 2011. Starting on February 10, you will be able to purchase the iPhone 4 from Apple stores to use in conjunction with your Verizon account.
As for me, I just purchased the Droid X last month and I am very happy with my purchase so I do not plan to change over to the iPhone anytime soon. I do have to say though that if you are an iPhone user, that I do recommend changing over to Verizon as they have excellent coverage here in NC.
So who will be upgrading?