After some fun in the Florida sun at Magic Kingdom today, the Social Media Moms were greeted with a wonderful surprise this evening. We were invited to a Walt Disney World Wedding!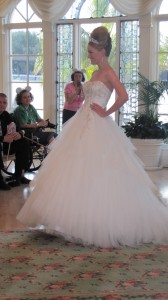 This wedding was ever princess's dream and now has me telling my husband that I really want to renew my vows here at Walt Disney World. They really do roll out the red carpet for the bride and groom.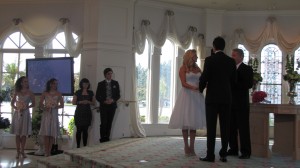 Take and look inside this magical wedding:
What a dream right? The bride was so beautiful and the groom was smiling the entire time. It really was magical to see how the bride and groom were looking at each other. The wedding was happening during the 20th Anniversary of Disney's Fairy Tale Weddings & Honeymoons. More than 40,000 couples have married at Walt Disney World Resort, Disneyland and aboard Disney Cruise Line since Fairy Tale Weddings began in 1991.
In celebration of the 20th anniversary, a specially priced wedding package, the Memories Collection, has been created at Walt Disney World Resort. Priced at $1,991 in honor of the 1991 opening year of Disney's Fairy Tale Weddings, the Memories Collection includes up to six guests, including the couple, a floral bouquet for the bride, solo violinist, transportation (three-hour limousine charter) and a professional photographer for one hour. It is being offered for 20 months.
It is your Disney wedding when you get married at Disney World. You are able to customized the wedding in so many different ways all the way down to what type of cake that you want.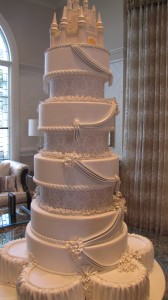 Today's wedding was at the Grand Floridian wedding pavilion but nuptials at Walt Disney World Resort also take place in outdoor garden settings, gazebos and courtyards, as well as indoor resort locations. More than 1,000 couples tie the knot each year at the Walt Disney World Resort. After seeing today's wedding, I can see why couples would want to get married here. I use to think, why would anyone want to get married at Disney World, but my thinking has totally changed after getting to see firsthand how they really cater to the groom and bride.
Would you like to have your wedding at Disney World? If so, follow long on the Disney's Fairy Tale Weddings Facebook page. Also, don't forget that you can always renew your vows at Disney if you are already married 🙂