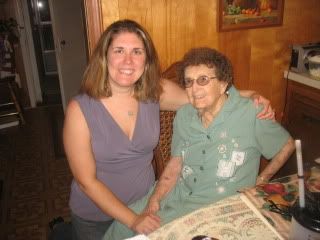 This is Grandma and I on her 96th Birthday last year. Today is exactly one year ago and something is missing from this picture very badly 🙁 – My Grandma… oh it hurts so much to write that.
Grandma the days are going by so fast but that doesn't mean that I don't stop and go pick up your picture and talk to you. Do you hear me? I hope so because I have been getting little signs and I want to believe they are from you. Do you remember when I flew back from Chicago last year so excited I was going to be with you on your Birthday?
The girls and I were so happy to celebrate with you on your Birthday, Grandma!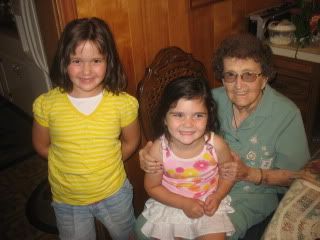 Look at all those smiles. Grandma, the girls and I are going to bake you a cake today and have a big celebration here on Earth for you. Will you please look down and be smiling too?
I look back at this picture from 2008 on your Birthday and just remember so much of the joys of the day.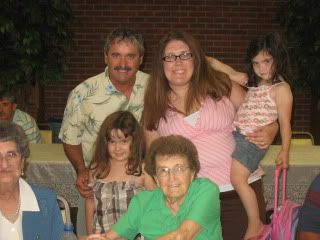 And I know you were pretty proud I finally lost all that weight for your birthday 2009 that you were on me about every time I saw you ;).
Grandama,
I hurt
I miss you
I want to talk
It is so hard
I know you are smiling
but I am still selfish
I want you here with us
celebrating on this special day
I pick up the phone to call your number
and then I think I wish it was transferred to heaven
You were such a solid rock and I am
trying to be that for others
You were my comforter and now I am
trying to do that with others
You taught me so much and you know
you are my HERO.
Happy Birthday Grandma. Your pride and joys and singing a big Happy Birthday Wish to you as well. I can see the picture now of you smiling.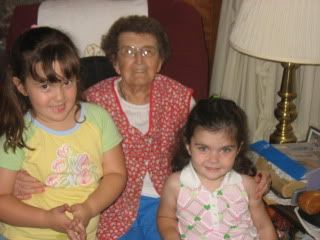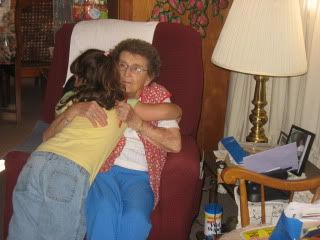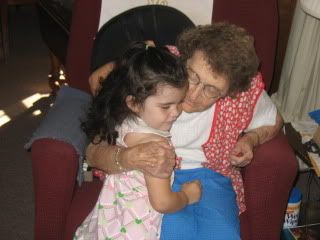 Wasn't it great that L loved you so much and shyed away from others so much. She loved her Grandma Houck!
Grandma we are off to bake you that delicious cake that you were always wanting us eat each time we came to visit. I will say bye for now… but not forever. Come visit me in my dreams please!
Happy Birthday to YOU!
Happy Birthday to YOU!
Happy Birthday to Grandma!
Happy Birthday to YOU!
Forever and Always,
Your youngest granddaughter…. Jennifer