You heard right… we escaped the freezing temperatures and made our way south to Florida.
We were all so happy to see this sign yesterday!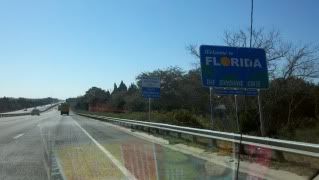 I am going to be blogging through our adventures here in the Kissimmee and Orlando area for Visit Kissimmee the first few days we are here in Florida. My husband's family is joining us tomorrow for some pre-Christmas fun. Then next week we are going to head to South Florida to have Christmas with the rest of my husband's family.
The girls are enjoying being in short sleeves and all the fun holiday treats. They eyes lit up with delight when they saw this HUGE Christmas tree here at the mall and get this… Santa was here too?! L just had to go talk to Santa since he had made his way from NC to Florida ;).
I'll be blogging about our fun times here at One Moms World and also doing other informational blog posts. Come along for the journey.
Merry Christmas!