Ever since becoming a mom, I have noticed one thing? My girls are not all that thrilled with a bunch of flashy lights or toys that require batteries. You give them a cardboard box and some crayons… they will be good to go for days.
Even L's preschool teacher likes to tell me that all L likes to play with in class mostly is the wooden blocks. I love it! It is time to get back to the basics and I have just the company that will help you do that. Plan Toys is a green company and they are here to help us moms make sure we have save toys that are going to help our kids develop as well.
We were sent the wooden toy Tower Tumbling. We couldn't even get the package opened fast enough and L was already talking about what she was going to build. She sat for a whole afternoon putting up different towers.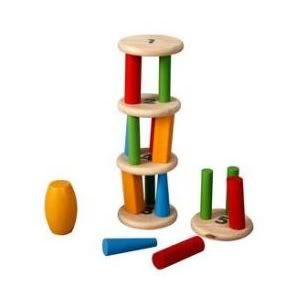 We played different games to such as
Using all one color on one level of the tower.
Turning on a stop watch to see the fastest time to build a tower.
Use all multi-colors on each level of the tower.
Build the tower with the least number of pieces.
Isn't it amazing to see a child's imagination work? Just give her some wood and L got into her building zone all the while just smiling away!
Are you ready to get back to the basics and let your kids use their imagination while they are playing with their toys, then make sure to check out Plan Toys 🙂
Disclosure: Plan Toys did provide us with this toy to review to get our honest opinion. We were not compensated in any way for our opinion. L did get to keep the toy to continue to play with though!