He is Risen! We are just a couple of weeks away from one of the most beautiful celebration – Easter!
As you know, VeggieTales released their newest DVD last week. THE LITTLE HOUSE THAT STOOD parodies two popular nursery rhymes – The Three Little Pigs and Humpty Dumpty – to help impart valuable life lessons. The Three Little Pigs meet the Wise and Foolish builders and learn that by making good choices, they can build a house that will stand against any storm! In the "The Good Egg of Gooseville" we find out what happens BEFORE Humpty cracks, in a good neighbor story where we learn why it's a nice to lend a little hand to those in need.
Check out this sneak peek!
I partnered with our local Chick-fil-A and did an early screening. The kids did not take their eyes off the movie the entire time. This speaks volume as how good the movie is and loved by kids of all ages, including adults.
THE LITTLE HOUSE THAT STOOD reunites fans with popular VeggieTales characters including:
Larry the Cucumber – Goofy, green and always a little bit silly!
Bob The Tomato – He's the practical one who likes to make sure there's a lesson to learn, but always gets pulled into Larry's silliness!
Jr. Asparagus – This little 6-year-old Veggie is full of fun and reminds us that little guys can do big things too!
Plus – The French Peas, Madame Blueberry, AND MORE!
To help celebrate this wonderful release, we have partnered with VeggieTales to offer one lucky reader a HUGE price pack.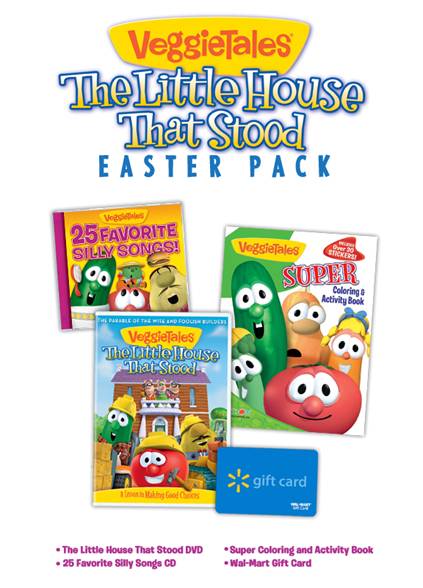 a Rafflecopter giveaway
Good luck!
Disclosure: I am a VeggieTales ambassador. All thoughts and opinions are of my own.