As you all know, my youngest daughter was recently diagnosed with Eosinophilic Esophagitis. We have been hoping her motility would come back in her esophagus. The latter part of last week, we all wanted to jump for joy as she felt the motility was back! We figured out unfortunately, that she cannot have eggs. Her doctor was hoping she could do a top 4 allergy removal (dairy, soy, wheat, and tree nuts) and her known allergens (lemon, corn, and peanuts), but unfortunately she had a reaction to eggs this past weekend. It broke our hearts, so sad. We decided, we definitely needed to stick with the top 8 allergy removal (dairy, eggs, fish, shellfish, tree nuts, peanuts, wheat, and soy) along with lemon and corn.
After another trip to Earth Fare, I found a muffin mix by Enjoy Life Foods. As their website says, all Enjoy Life Foods products are free-from the eight most common food allergens in the United States, as declared by the FDA — wheat, dairy, peanuts, tree nuts, egg, soy, fish and shellfish. In addition, their products are made in an allergy-friendly facility, so there's no chance of contamination. The foods also are free from Canada's twelve priority food allergens, which include the top eight plus sulfites, crustaceans, sesame and mustard.
L decided she wanted pumpkin muffins. I came up with a recipe tonight and she really loves them. She has had three muffins this evening!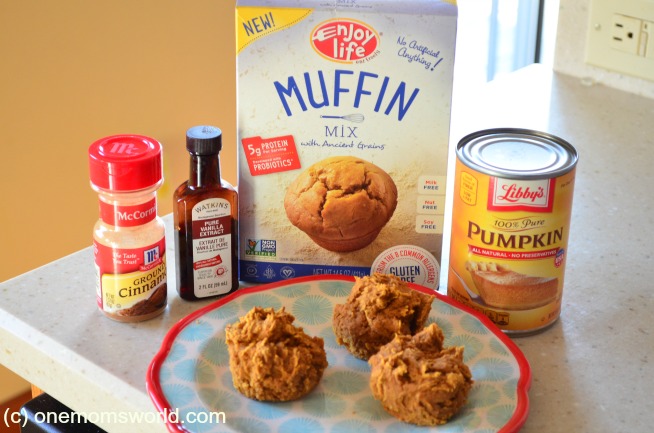 We will continue to do this food trial and see if she has any reactions. With EOE, it is a delayed reaction. Please let these muffins do well with her esophagus!
Ingredients:
1 box of Enjoy Life Foods muffin mix
1 can of pumpkin puree
2 tbsp of ground cinnamon
1 tbsp of vanilla extract
Directions:
Mix all ingredients. Do not over stir. Put paper liners in your muffin pan. Spoon muffin mix into the liners. Fill 3/4 full. Bake at 350 degrees for 12-14 minutes. Let cool for 5 minutes. You can refrigerate the muffins up to 5 days.