Life is cruising in the fast lane. I cannot believe that it has already been a month since I started the Shaklee #Cinchspiration Journey.
I am receiving a lot of questions about the Shaklee Healthy Journey. What is exactly involved? What do you eat during the day? I thought I would do a video and share what a day in the life is like….
Pretty rocking right?
I am down 10.1 pounds. Drinking 96 ounces of water each day, staying within the 1500 to 1600 calories and doing 2 to 3 mile walks 4 to 5 times a week are the key contributing factors to the Shaklee shakes and meal bars. I do want to make that clear, that I am not just doing the shakes and meal bars.
RESULTS
Beginning Inches
Hips: 44 inches
Thigh: 23 1/2 inches
Bust: 43 inches
Arm: 15 inches
Waist: 36 inches
2nd Update Inches
Hips: 43 inches
Thigh: 22 inches
Bust: 40 inches
Arm: 14 inches
Waist: 34 1/2 inches
3rd Update Inches
Hips: 42.5 inches
Thigh: 22 inches
Bust: 39.5 inches
Arm: 13.5 inches
Waist: 34 inches
Total inches lost: 10 inches
My journey in pictures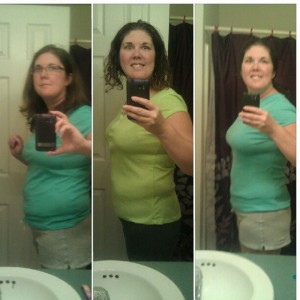 I am very excited to see what the next month will hold. Stay tuned!
Disclaimer: Shaklee is providing me with 6 months of product in exchange for my honest review and weight loss journey. All thoughts and opinions are of my own.