The fun has not stopped. We feel so spoiled and not sure if we will be ready to depart from the boat… ha!
It is amazing how much fun you can have on the boat without ever stepping foot onto land. We have been sailing the sea and will reach land Tuesday morning. In the meantime, we are enjoying all the wonderful offerings by Carnival. Let me just say, you will not get bored on the Breeze. If you do, then it is definitely your own fault.
We started the morning bright and early with a wonderful work-out. There is so much food on this boat and I am trying really hard to stay with healthy options but there have been a couple of temptations. Kudos to Carnival for having healthy options at every meal. The elevator has been forbidden as we take the stairs everywhere. I have been told that it will be a great workout and thus far, this holds true.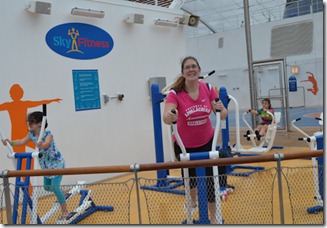 The workout  machines give you great motivation to help you maintain your weight. I did 25 minutes of cardio this morning while overlooking the beautiful blue sea. The blue water has had me mesmerized ever since we sailed out of Miami and reached international waters. After cardio, I walked the sky track 7 times. Seven laps equal one mile. Tomorrow, my goal is to do 25 minutes of cardio and two miles. The hubby says he is going to join me in the morning. We are going to make it a family affair.
After our workout, we went to the Lido Market and had breakfast. Many choices await you as there are several buffet lines. Even your own chef will create you an omelet and yes they do serve egg white omelets. Score! The scenery at breakfast was lovely and such a fabulous atmosphere that was quiet and quaint.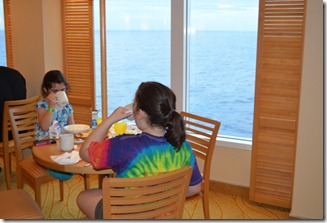 As we were all energized, it was time to go and enjoy the Fun 2.0 options of the Carnival Breeze. It was decided with no doubt that I am a poor pool player. The hubby wins hands down in our family but guess what? It does not matter. We were laughing and just having so much fun playing and enjoying each other's company with no technology. WIN!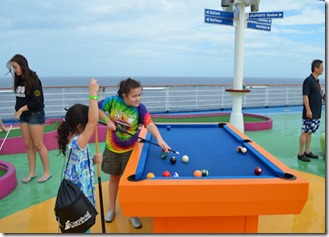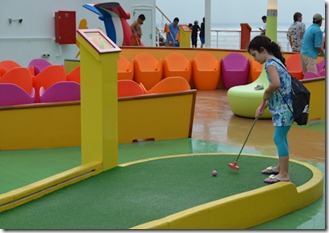 L is addicted to putt-putt. She has played three-rounds so far and is ready to go back and beat her score tomorrow. We spent a good two and half hours on deck and still did not get to do table tennis and foosball. It is on the agenda for tomorrow.
Believe it or not, it was time to go eat again. If you starve on this ship, then I'm not sure what is wrong with you. There are so many food options and there is food available around you 24/7. The biggest majority of the food options are FREE! Check out our day 2 food. Go ahead and grab a paper towel as I know you will be drooling. It's ok.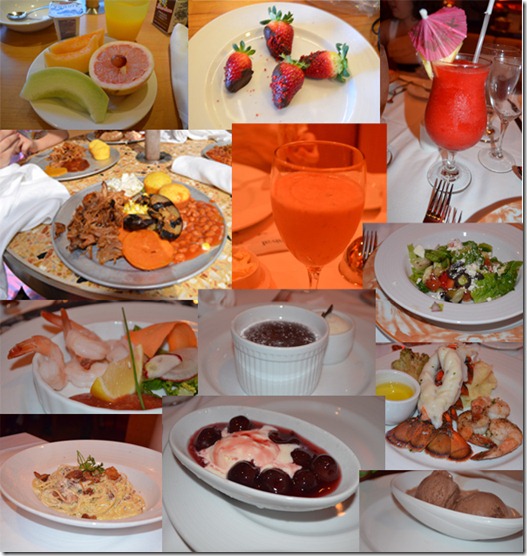 At lunch, we enjoyed a BBQ buffet. This is a free option for lunch. You are able to choose options such as chicken breast, kielbasa, BBQ, steamed vegetables, potato salad, coleslaw, baked beans and corn bread muffins. You can see a picture above of my plate. So incredibly delicious!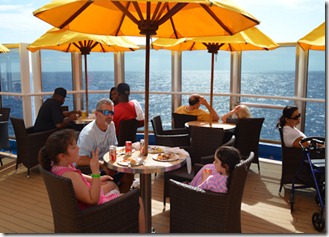 After you get your plate, you are able to sit under the umbrellas and eat seaside. Amazing weather, beautiful view… what else do you need for this delicious lunch?
Since we all wore our bathing suits to lunch, we headed straight for the beach pool as soon as we were done eating. All their pools on deck are salt water. It really felt like you were just at the beach and salt water is so much better for your skin. We were filled with happiness. As we were in the pool, the Carnival Crew members were hosting events poolside that people can join in or sit back, relax and take in the view.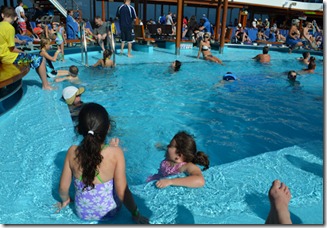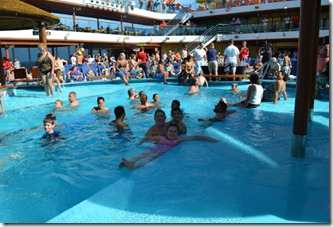 It was time to head back to the room to get ready for the family Hasbro show. One thing derailed us though… Once we got back to our room, we realized that the jacuzzi outside our room was empty. We could not pass up this opportunity, so we spent thirty minutes just laughing and having great conversations. Relaxing, it is bliss!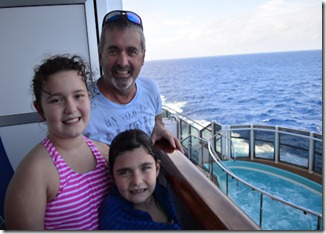 We did finally make our grand entrance to the live game show sponsored by Hasbro. The cheers and enthusiasm were heard from afar. This was going to be one incredible show. There were no disappointments. The crowd was going wild to get up on stage. Close to 20 members of the audience are chosen to get up on stage and play a Hasbro game on stage with life-size game pieces.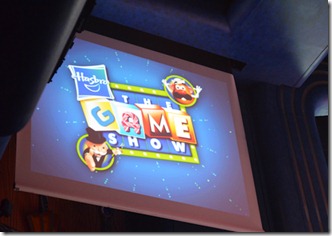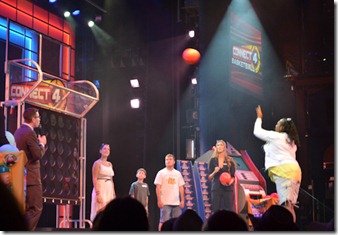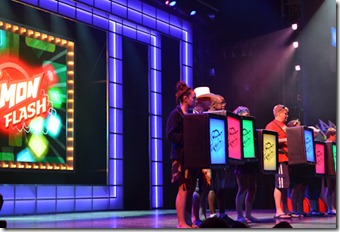 There are winners and losers but the best part is fun by the entire audience. Prizes are the bonus. The girls were already checking the schedule to attend the next show.
It was time to head back to our room and get all formal. Two nights this week is when we will show our best attire and enjoy elegant dining. Tonight was the first night and we were dressed to the nines. Well not really, but we sure do look beautiful when we take a shower and spiff up.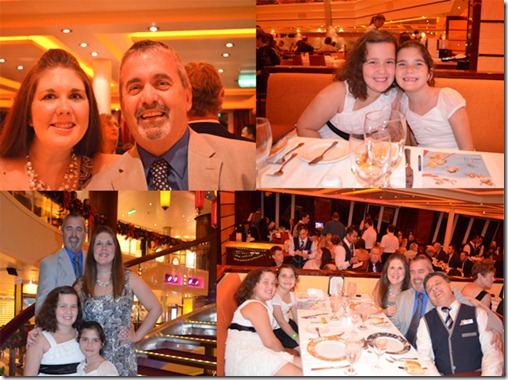 Are we not just darling? Go ahead, it is ok to admit it. We were treated to a strawberry bisque as a starter with lobster and ship as the main entree. Melt-in-your mouth delicious!
See in the bottom right picture an extra member of the family? That is one of our waiters. We look forward to dinner each night because of our waiters. They take the dining experience to a whole new level. We have been with them two days and feel like long lost friends. The girls are all smitten with them as well.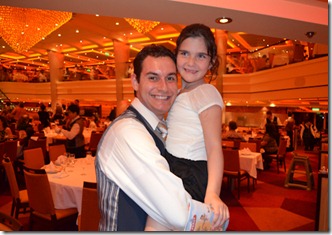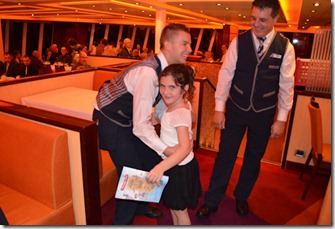 They treat us like royalty each time and call us by our names. We are so spoiled. I have yet to meet a crew member that is not in love with their job. Each crew member always has a smile and loves to carry on a conversation with you and are so helpful. Amazing!
All the waiters treated us to music tonight. I hear that this is a longstanding tradition with Carnival and is such a hit with all the families. We were in awe with their singing talents.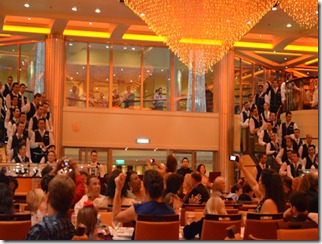 To finish the night, we headed back to the Ovation Theater and were mesmerized by the Diva Show. A broadway-worthy show free right before our eyes.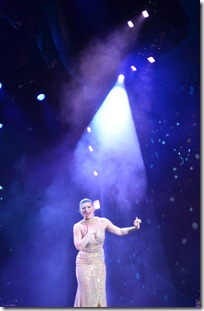 We are looking forward to more shows this week. As we made our way back to our stateroom, we were greeted with a different towel animal, chocolates on our bed and our sheets turned down. Amazing treatment and we are loving, enjoying every minute. We must rest now and get re-energized for a spectacular Day 3.