It has been a rockin' day… literally!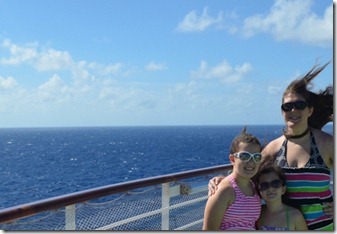 The Breeze has hit high winds with rocky waters. Although, the huge waves have not stopped us from experiencing a fantastic day. We just rocked side to side while we experienced the fun. This is where motion sickness medicine can come in handy. I do recommend you add this type of medicine to your cruise packing list.
Talking about fun, we laughed our way through morning brunch with the Punchliner Brunch presented by George Lopez. Lopez was not on the boat but the next best was in our presence. JAI Ernst and Dean Gaines provided 10-minute live comedy shows on the hour from 10:00am to 1:00pm. This was just an appetizer to their family friendly shows presented on the boat in the evenings at the comedy club.
The breakfast was filled with deliciousness. From ready to order egg omelets to bacon macaroni cheese. An experience for every taste bud for sure.
The brunch is provided free of charge on all sea days.
After brunch it was time to go brave the high winds and head to the top deck. We were excited to go splash in the water park and take a chance on the sky course. Once we arrived, it was with great sadness to find the water park and the sky course was closed due to high winds. No worries as we will put it on our agenda later in the week. Sissy took control and directed us to a game of putt-putt. As always, there are lots of laughs and just good clean family fun on the greens. As I said yesterday, it is one of her favorite things to do here on the ship. As we were on the top deck, we took time to enjoy the view. The water is such an amazing blue color and it really is breathtaking. Hubby and I just stand there and take it all in while sharing hugs. Time please stand still.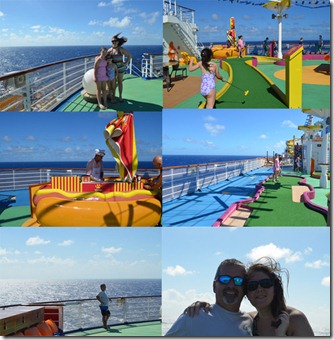 The wind was winning so we strolled down one deck to the beach pool. The beach pool is where great entertainment takes place all day long. Today was an ice carving demonstration. A gentleman from Japan was able to take a huge block of ice and turn it into a beautiful swan in just 15 minutes. Amazing!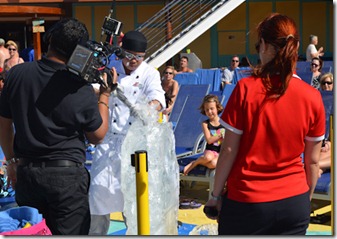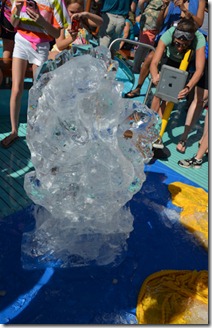 My picture does not do it justice. It was beautiful on-site.
Hubby and I sipped on some ice cold lemonade while the girls were in the salt water beach pool in front of us. Carnival has two gazebos around the beach pool. Parents are able to sit under the gazebo with their feet in the water while watching their kids create splashes just feet in front of them. Great thinking Carnival.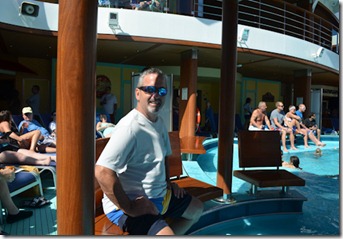 Of course, you can only enjoy the splashes so long and then the water is calling your name.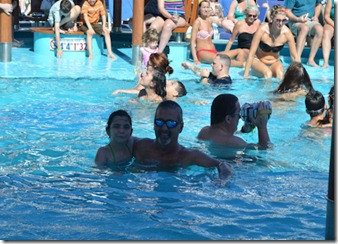 You can swim up an appetite so we headed into the Lido Market. The Lido Market is right beside the beach pool. There are several buffet lines in place serving chicken tacos, Chinese food, salad, pizza and more. It is your choice and all you can eat so make smart decisions. The Lido Market also serves 24/7 ice cream and frozen yogurt.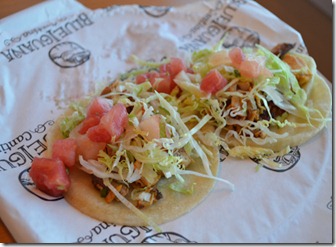 This is a watermelon salsa on top of the chicken tacos. I would have never guessed watermelon would create a great salsa, but boy I was wrong. This was downright delicious and will be devoured again later on in the week.
After a quick bite to eat, we lounged and relaxed in the jacuzzi. Several jacuzzis around the ship and we are fortunate to have one right at by our stateroom. This allows for easy access to our room to dry off and get cleaned up after a fun day outside.
No time to slow down as we were getting in line for a thrill of a lifetime. Carnival has added an all new Thrill Theater to the Carnival Breeze. This is the first one in the line of Carnival Ships. Fortunately, we were able to celebrate the Christmas Spirit with Polar Express.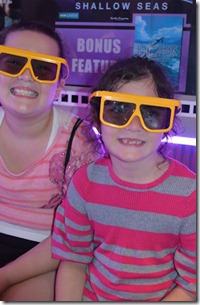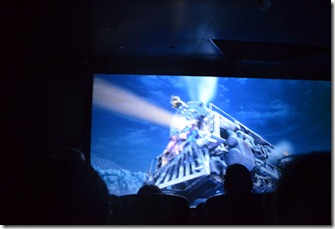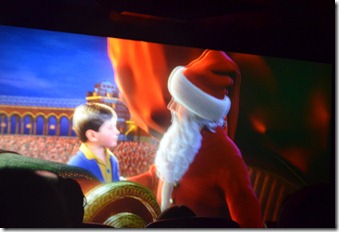 It is a 20-minute snippet of different movies and shows. The experience is either in 4D or 5D. The girls were amazed. Hubby and I loved it very much as well. SpongeBob and Happy Feet are the two other movies you are able to experience on the ship right now. The best deal is buying the all-in-one package for $14.95 which allows you to see all the shows. Great deal and so much fun.
The time had come to take the girls to Camp Carnival. I enjoy having my girls with me at all times but Carnival had scheduled a date night with my hubby at their onboard Steakhouse. The girls actually were looking forward to the Camp Carnival Experience. This is a camp open all day to kids ages two and up. It is real secure and you are given a telephone to keep with you at all times so they are able to contact you if something was to go wrong. Events are planned for the kids each day. Tonight was an Alvin and the Chipmunks Karaoke Party and Mr. Potato Head Contest. M actually won the Mr. Potato Head Contest. The girls had such a great experience and were asking when they could go back. I think that serves as a great review of how well the evening went in Camp Carnival. This was the scene when we arrived to pick up the girls.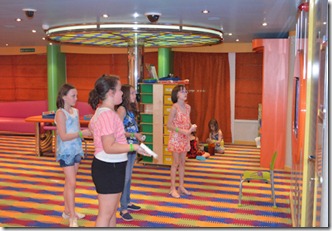 M was showing off her dance skills on the Wii. Too fun!
As the girls were dancing and singing to their hearts content, we were being wined and dined at the Fahrenheit 555 Steakhouse. This onboard restaurant creates the ultimate steak experience right in front of your eyes. As soon as you are seated, the waitress showcases all their different types of meat to you. I am not a big red meat person, but there is no lying that this was the best prime rib that I have ever tasted. The chef was from India and he was showcasing his top-notch chef skills. You can choose chicken, seafood or steak as your entrée. Also, don't forget the gourmet appetizers, the delicious sides and the ever so big desserts. Our taste buds are really thanking us after tonight.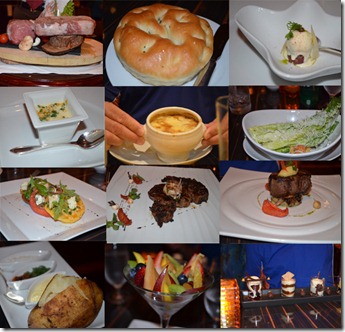 It is a quiet and small atmosphere. Perfect for date night and enjoy the one you love. The fee is $35 per person so it is a splurge for one night on the boat. You will not be disappointed.
Two hours had past in the steakhouse and we were very eager to go pick up our girls. We surprised them with an ice cream break in the Lido Market before heading back to our stateroom for the evening.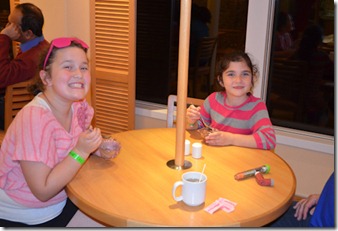 Another fun-filled day is in the books. Great memories, wonderful laughs and most of all – great quality family time without technology. We are spoiled.
Five minutes after we arrived in our stateroom, L was fast asleep.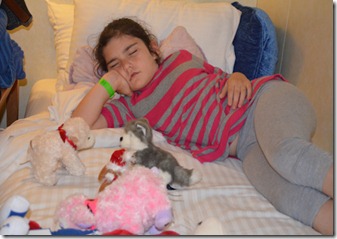 Daddy and M enjoyed the treats that were left for us by the Carnival Staff.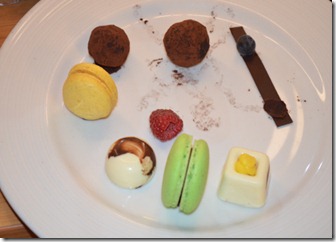 We arrive on land in the morning. I know this is going to be an amazing experience for the girls. Their first time out of country. Kudos for now….