Did you hear that scream? My favorite Dunkin' Donuts coffee is back for the upcoming fall season.  As we left the hospital last week during a somber time, I decided to go through the drive-thru at Dunkin' Donuts. You can imagine my surprise when I saw the sign up for Pumpkin Coffee. I immediately wanted to scream to let the world know.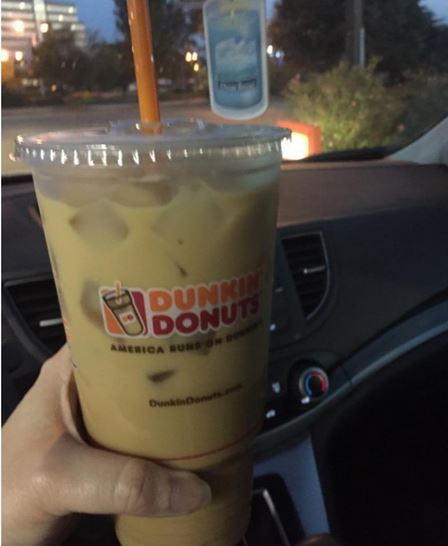 Back by popular demand at Dunkin' Donuts restaurants nationwide, the pumpkin menu includes Dunkin' Donuts' famous hot or iced pumpkin coffee and lattes, Pumpkin Donut and MUNCHKINS® Donut Hole Treats, Pumpkin Muffins, and Pumpkin K-Cup® pods and Packaged Coffee.
Additionally, new tasty treats have been added to the fall lineup including:
REESE'S Peanut Butter Square: For the first time, Dunkin' Donuts has partnered with The Hershey Company to put the tastes of creamy chocolate and REESE'S Peanut Butter together in one tasty treat. It's filled with rich and creamy REESE'S peanut butter buttercreme, topped with chocolate icing and finished with an orange icing drizzle to match the colors of the traditional REESE'S Peanut Butter Cups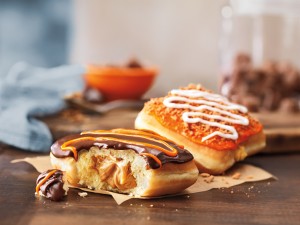 Pumpkin Cheesecake Square: For pumpkin fans looking to celebrate a favorite flavor of fall in a fun new way, Dunkin' Donuts introduced this new donut which is filled with smooth and creamy pumpkin cheesecake filling and topped with orange icing, crumbled graham cracker topping and finished with a white icing drizzle.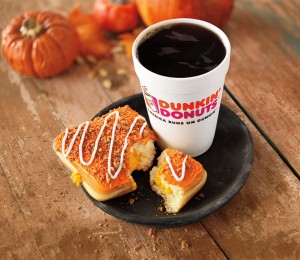 Pumpkin Pie Coolatta: Featuring real pumpkin puree and spice flavors, with crumbled graham cracker pieces mixed in, the creamy Pumpkin Pie Coolatta captures the essence of a fall favorite in an indulgent frozen treat.
And with football season nearly ready to kick off, Dunkin' Donuts is making it easy for breakfast lovers to enjoy a taste of weekend tailgating any time of day, any time of week, no stadium or parking lot necessary with the Tailgater Breakfast Sandwich. It features the mouthwatering combination of an egg, reduced fat cheddar cheese and juicy split smoked sausage topped with fire-roasted peppers and grilled onion mix and Ancho Chipotle sauce on an oven-toasted French Roll- served any time of day.
Don't walk, but run to your nearest Dunkin' Donuts. You will want to scream with happiness as well.