The weather outside is frightful. The snow is falling outside and the temps are dropping to below zero tonight with wind chills. It was a nice evening to sit by the window with my family and watch the big and beautiful snowflakes fall. We warmed up by eating a big bowl of chicken and dumplings.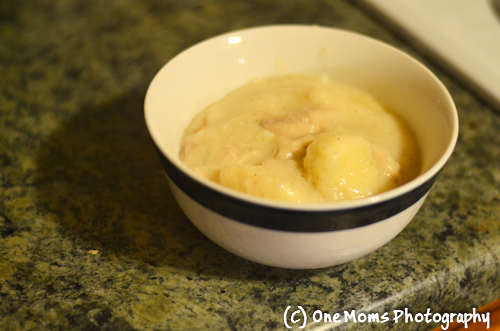 When our family from Florida was up for Christmas, they cooked these chicken and dumplings with us one evening. The recipe is so simple but yet the food is very delicious. I did a couple of changes so I could make it gluten free.
Ingredients:
1 whole chicken
Gluten Free Bisquick
Milk
Eggs
Butter
Two cartons of chicken broth
Salt and Pepper
Directions:
1. Cook the whole chicken in a pot on the stove. (You can used boneless chicken if you prefer.)
2. Shred the chicken.
3. Combine the chicken broth from the pot with the two cartons of chicken broth. (I use two pots to cook the chicken and dumplings. This works if you do not have a really deep pot.)
4. Put the shredded chicken in the chicken broth. Cook on medium high.
5. Make the gluten free biscuit dough per the instructions on the bisquick box.
6. Drop the biscuit dough by the spoonfuls in the chicken broth. Cook for about 10 to 15 minutes. Until dough is cooked all the way through.
7. Sprinkle salt and pepper. Enjoy!
This recipe makes a big batch. We always have leftovers.