Since I started working outside of the home, I drink more coffee in the mornings. As soon as I drop my belongings at my desk after morning devotions, I head for the break room to make my favorite morning beverage. I started getting bored of just a regular cup of coffee so my co-worker mentioned putting a packet of hot chocolate in my coffee. Introducing my cup of energy: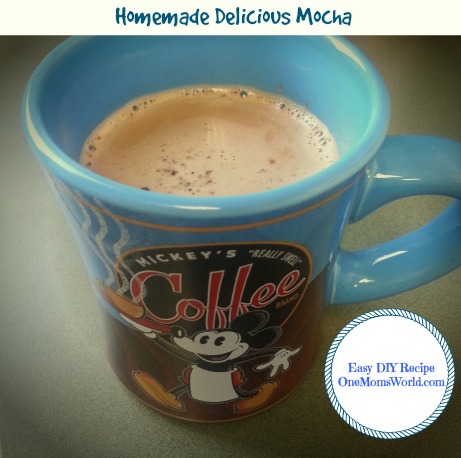 Who needs a fancy cup of joe from the coffee shop? Make your own within minutes.
Ingredients:
1 Packet of Hot Chocolate (I use the Swiss Miss Dark Chocolate Sensation)
Hot Coffee
Favorite Creamer (I use Cold Stone Creamery Hot Sundae Cookie
Directions:
1. Pour hot chocolate contents into your coffee mug.
2. Pour hot coffee into mug.
3. Pour creamer.
4. Stir. Enjoy!
You can see why it is my cup of energy. This is usually the only cup of coffee I drink a day. I drink water the rest of the day at my desk. It is the perfect pick-me-up in the morning and helps me get ready to take on the day. Also, I love that I can enjoy it in my coffee mug that Leanne from Walt Disney World's Social Media Team mailed me!
Cheers!