Cooking with Pillsbury Crescent rolls is a whole new adventure these days. Long gone are the days when the Pillsbury Crescent Roll was just a bread staple at the dinner table. Now you can have a dessert, appetizer or even a main course meal with Pillsbury Crescent rolls.
What if I told you, you could win $1,000 for your Pillsbury Crescent creation? It is true my friends. Get out your video cameras and roll out the red carpet. It is time for you to make your big debut online. Pillsbury is wanting to hear from you by way of video. The Pillsbury My Crescent Wow contest only has 16 days left and there are very few video entries. We need more entries and the best part is when you upload your entry, you are entered to win $1,000 bucks. Now, wouldn't that be a wonderful New Year's Present.
Now all you need to do is:
1. Gather your ingredients
2. Set-up the recipe in the kitchen
3. Pull a family member aside and give them the video camera
4. Prep your hair and make-up haha
5. and… Start cooking!
It is that simple. I can't wait to see all your new and delicious recipes!
While I have you, don't forget that you can vote for my crescent wow recipe on the site and with your vote, you could win $5,000. Friends, that is a total of $6,000 that you could win!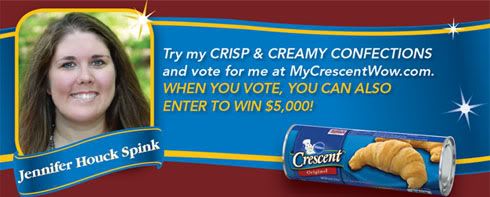 Lights, Camera, Action! GO 🙂