There are times when chocolate can solve many problems in life. Unfortunately, it can't solve all the world's problems but we have three problems that chocolate can help save the day. Specifically, the new SNICKERS Crisper Candy Bar!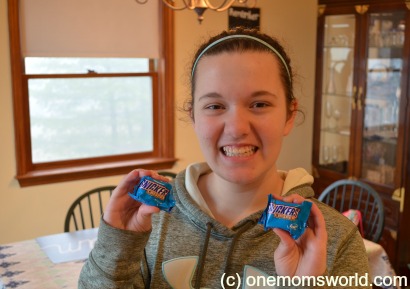 I've partnered with SNICKERS (MARS) and SheSpeaks to share with you the ways the new Crisper has helped us. You may laugh, but that is good for the soul as well. Click play to watch the short video.
Can you relate? We never know what each day will throw at us, but we can hide SNICKERS throughout the house and let them show up just when they are needed!
The Crisper is a delicious combination of crisped rice and peanuts topped with a layer of caramel and coated in creamy SNICKERS Brand milk chocolate. I will be honest and say this has always been my favorite candy bar. The addition of the crisp rice to the candy bar gives it a nice crunch. My husband loved the crunchy taste as well. Each FUN SIZE bar is only 100 calories which makes for a nice dessert in the evenings after a hard day at work, the gym, the doctor office, and the list could go on and on. You can opt to purchase the full size candy bar which features two pieces, each with 100 calories, allowing you for a snack for now and another for later.
SNICKERS Crisper are available at Walmart stores and online at Walmart.com and come in the following sizes: Single, 4 to Go and Medium FUN SIZE Bag (12 count).