It would be to have my Grandma Houck here with me this Christmas. I knew the holidays would be hard without her, but I just didn't realize how hard till this past weekend.
My tears could no longer keep at bay, they escaped full force. The first tears started when my Aunt would not let me leave her house without taking a loaf of Banana Bread. As you know from this post I wrote in January of this year, Grandma would always give me a loaf of banana bread. She worried so much last year because she did not have me a gift and I told her the best gift was just being there at Christmas with me. Oh how I did not know, that I would lose her just two short months later. The tears would not stop flowing Saturday when may Aunt gave me that loaf. I left and got in our vehicle and could not stop crying. I just kept playing last Christmas in my head and the last loaf of banana bread I received from Grandma. You never know how much something impacts you until it is taken away from you.
I finally collected myself together enough to run into Michael's Craft Store and purchase some silk Christmas flowers to put on Grandma's grave. It was my first time to visit her grave and the emotions were taking a toll in the store.
Once we pulled up to the grave, I leaped out of the vehicle and ran to find her grave. It was 30 some degrees that day but around Grandma's grave, there was a warm presence all around. The sun was beaming down so much on her grave and I felt like Grandma was right there with me. M was asking all kinds of questions and was really intrigued by the whole process.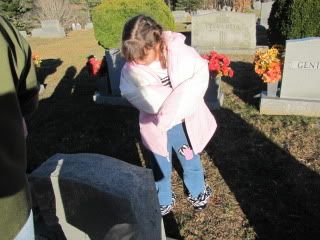 I took a few minutes to just stand there and look at her grave. I was fine, no crying, just standing there reminiscing about her. I finally was ready to place the flowers on the grave.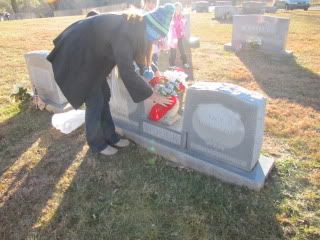 That is when the tears just overcome me and I did not want to leave.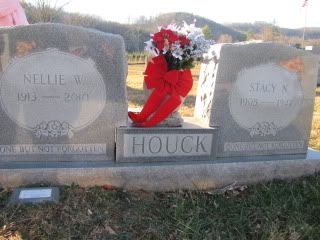 All I want for Christmas is Grandma to be here with me. I miss her so much!
You are still my hero Grandma!