Take a leap of determination. That is what you will do aboard the Carnival Breeze SkyCourse. You are harnessed in and ready to step out on the rope course that resides nearly 250 feet above sea. If you have any worries about heights, the worries will float out to sea.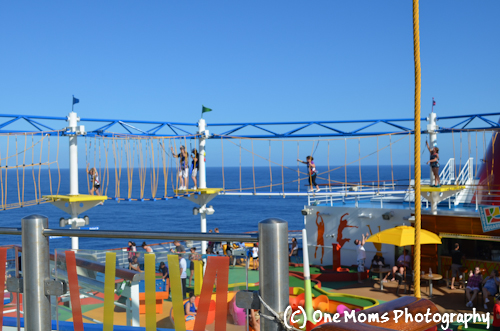 My daughter M conquered the SkyCourse with no problems. If she can conquer, then surely her 30-something mother can conquer the course. The course looks easy from down below, but once you actually take the step onto the course, easiness went out to sea.
Check out my video summary Jen vs. Carnival Breeze SkyCourse. Be sure to watch all the way through to see who wins and if I am able to save the day for a sweet little girl.
Would I do it again? Absolutely. It was a fun experience and one that I will never forget. I loved that my daughters' and husband were cheering me on to make it a family affair.
Once you start the course, you are able to choose between an easy course and hard course. M, of course, conquered both courses.
Read more about our Carnival Breeze experience.