Congratulations to Comment #38 – Christina Reyes. You are the winner of the Fisher Price Gift Card. Check your e-mail.
Gear and advice will be overwhelming to a new mom as it was with myself. I didn't know who to believe with their advice. All the gear looked so impressive and seemed to be calling my name, but there was so much gear that was not hardly used at all. I will keep quiet about all the advice. Let me just say, let your mother instincts take over and do what works best for you.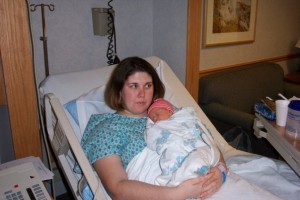 My favorite baby item:
Sling – My youngest daughter was very high needs and loved being close to her mommy. Since I just naturally started doing attachment parenting, the sling was a lifesaver for me. L was so content being right with me all day long. I could clean house, I could cook dinner, I could answer e-mails, I could run errands all because L and the sling were perfect matches.
My least favorite baby item:
Changing table – My grandmother bought me this beautiful changing table and I had it all accessorized before M came into the world. After I brought M home, the changing table became a place to lay everything on except for the baby. The table may have been used a total of two times to change M and then after that I just changed the girls wherever – the couch, the bed, play yard, and etc.
This is just the beginning of what works best in my opinion. BabyCenter has a community where moms are all spilling their thoughts on what gear worked/works best for them. Head on over and join in the conversation. You never know when you can help another mom.
WIN!
Fisher Price wants to help you out this holiday season to purchase the gear you need. They are generously doing a giveaway here at One Moms World for a $25 Fisher Price Gift Card.
To Enter:
1. Leave a comment telling us what your essential gear products are/were?
Extra Entries:
Tweet about this giveaway.
Post about this giveaway on Facebook.
Subscribe to our feed.
Leave a comment for each additional entry. One random winner will be picked on December 5, 2011.
Disclosure: This post is sponsored by BabyCenter in conjunction with the BabyCenter Blog Network. All prizes and compensation are provided by BabyCenter.