We are all so ecstatic here at One Moms World. One of our favorite channels (Disney Junior) is going to be launching to a 24-hour channel.

Since it's launch this past February, Disney Junior continues to grow and break all previous records for Disney Channel's programming. Anchored by hit series, Jake and the Never Land Pirates, Disney Junior continues to soar. The brand new standalone 24-hour channel will launch in early 2012.
This is just an example how Disney listens to parents. Thousands of parents of 2-7 year olds told Disney that they wanted more Disney programming for their younger children. Disney listened and we get to see the results in early 2012.
L's favorite show since it was launched is the Jake and the Never Land Pirates.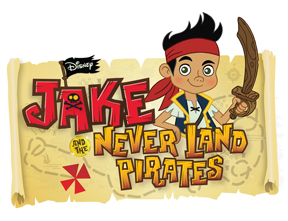 The series features original "pirate rock" music peformed by Sharky and Bones of The Never Land Pirate Band. I love the show because it is such a quality show that helps kids model teamwork, problem-solving and gets the kids up dancing. We recently received season one on DVD and L has watched it every single day in our car. She will dance, sing, and just melt our hearts. It really gets the kids energized. It is on sale right now at Amazon for only $14.99. Great christmas gift.
Speaking of Christmas a whole new holiday episode "It's a Winter Never Land!/Hook On Ice," is scheduled for December 2, 2011 at 8:30am ET/PT. Set your DVR's and put the date on the calendar. This is a show the kids will not want to miss. We were able to see a special screener and the show is definitely very festive and gets the kids in the Christmas mood. Give the kids a cup of hot chocolate and curl up on the couch and have a fun "Snow Day." It is so fun watching L get so excited about the treasure hunt and see that twinkle in her eye.
Check out these previews of the episode:
I am so proud of Disney for standing up for our kids. It warms my heart to see a company creating age appropriate shows all the while keeping the shows educational as well. TV has become such a roller coaster with what shows are shown, but I know I can always believe in Disney Junior. L loves to have computer time on DisneyJunior.com as well. KUDOS Disney Junior!
Disclosure: I was provided a Disney Junior package to facilitate my review. All thoughts and opinions are of my own as we have been big fans since its debut earlier this year.